After our busiest year of guitar-building ever, Taylor is thrilled to carry that momentum into 2022 with an exciting range of new guitars, serving up new tonal flavors and fresh aesthetics across three body shapes.
Without further ado, let's jump into the lineup of new Taylor guitars for 2022.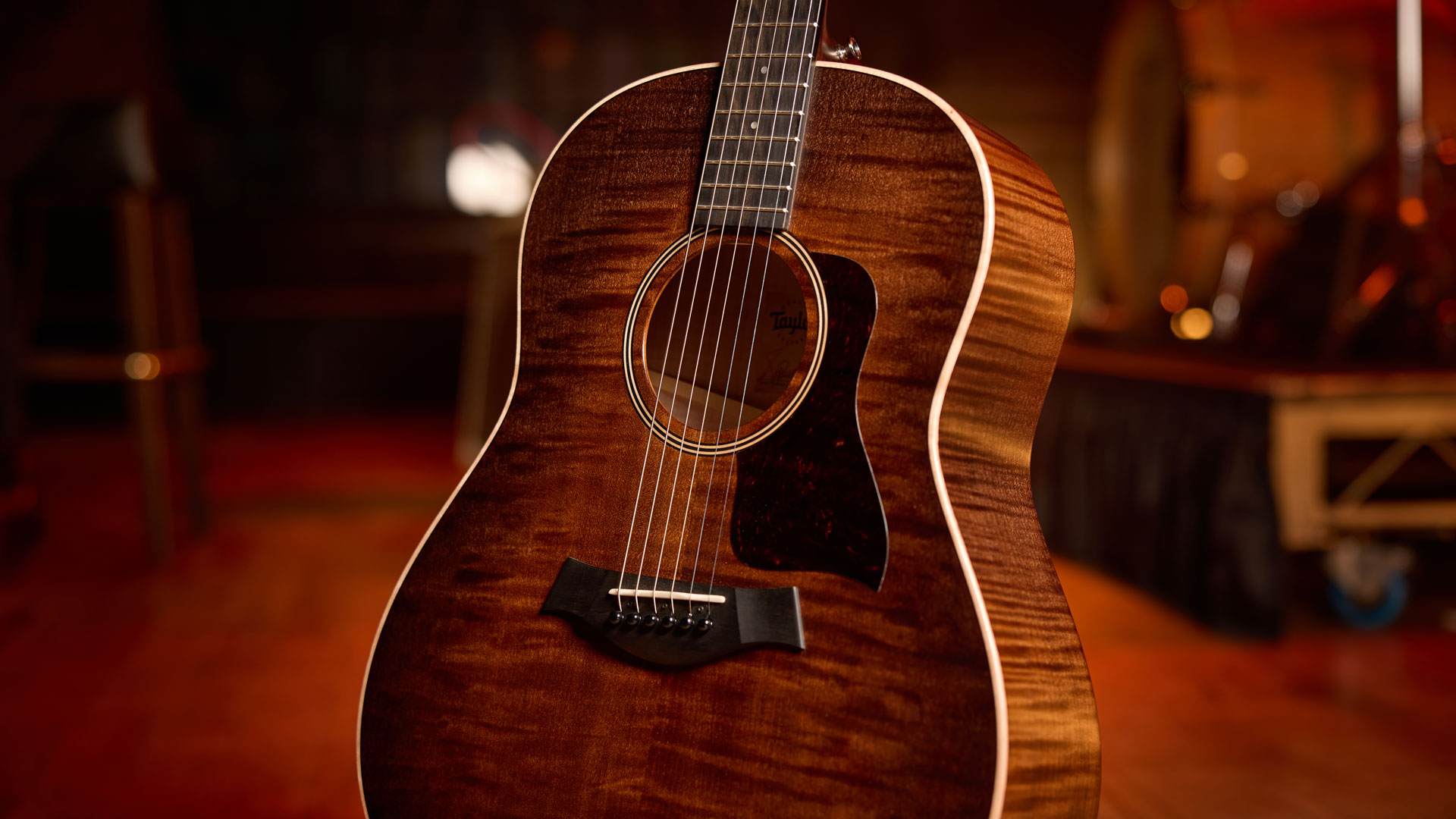 Back/sides: Big Leaf Maple
Top: Figured Big Leaf Maple
Body Shape: Grand Pacific
Bracing: V-Class
Fretboard: Eucalyptus
Price: $2,199
Case: Brown AeroCase
Our next new Taylor model for 2022 is another addition to the American Dream Series, but it couldn't be more different from its new Grand Concert counterpart. The AD27e Flametop serves up a totally fresh sonic character within the Taylor line, thanks to all-maple construction (that's right—even the top is maple).
After some design touches by Andy Powers added more warmth and sophistication to maple's stereotypically "bright" sound, we grew more curious about maple's other musical possibilities. A Grand Pacific dreadnought, the AD27e Flametop generates a tone that you won't find anywhere else in the Taylor line. Maple's player-reflective qualities remain strong, and this model will sound a bit different in each pair of hands depending on your playing style and technical quirks. But what's truly distinctive about the AD27e Flametop is its earthy, almost chunky response, one that simultaneously recalls vintage acoustic sounds and old-school parlor-guitar vibes. It's a fat, meaty sound with a warm, foundational low end and notes that blend and roll into one another.
This is also another innovation made possible by the V-Class bracing design—maple tends to be a bit unruly when used as a soundboard, but the new bracing scheme provides enough articulation and control for the AD27e Flametop to produce a rich, orderly, harmonious sound.
This new model sports a rustic visual character to match its rootsy sound. We've finished the guitar with a dusky Woodsmoke color treatment that draws out the beautiful natural figuring of the maple top, back and sides. Chamfered edges mean there's no binding, but the unfinished blonde maple top trim adds a striking contrast against the guitar's darker earthtones of the body. Complete with built-in ES2 electronics and an AeroCase for transportation and protection, the AD27e Flametop delivers complete functionality for working musicians along with an unforgettable new sound.
Back/sides: Sapele
Top: Neo-Tropical Mahogany
Body Shape: Grand Concert
Bracing: V-Class
Fretboard: Eucalyptus
Price: $1,699
Case: Brown AeroCase
So far, the American Dream Series has been a collection of Grand Pacific dreadnought models crafted to meet the needs of musicians with solid-wood tone and great value, and given the overwhelmingly positive reaction from players to those guitars, it felt like time to diversify the series.
Enter the AD22e, a Grand Concert acoustic-electric guitar made in the USA with solid sapele back and sides paired with a mahogany top. This model offers a more compact experience compared to its Grand Pacific siblings in the American Dream Series, featuring the same comfortably chamfered edges and raw-finished texture along with a more articulate tone profile. Sapele's midrange punch blends nicely with the mahogany top's dry, woody response, making for a focused sound with minimal overtones. Inside, our V-Class bracing architecture generates rich volume and longer sustain, also helping provide a smoother, more harmonious sound all the way down the neck.
With their clarity and tonal definition, our Grand Concert models have always been popular with fingerstyle players, and the AD22e is no exception. Likewise, the AD22e's hardwood top helps smooth the edges off an aggressive or unbalanced attack, a kind of natural compression effect that makes this model an excellent choice for recording purposes.
Aesthetically, the AD22e matches the performance-focused visual style of its Series counterparts. A matte finish with an Urban Sienna stain adorns the entire guitar, complemented with a faux-tortoiseshell pickguard and classic 4mm dot inlays in Italian acrylic. This model ships with built-in ES2 electronics and a sturdy, lightweight AeroCase.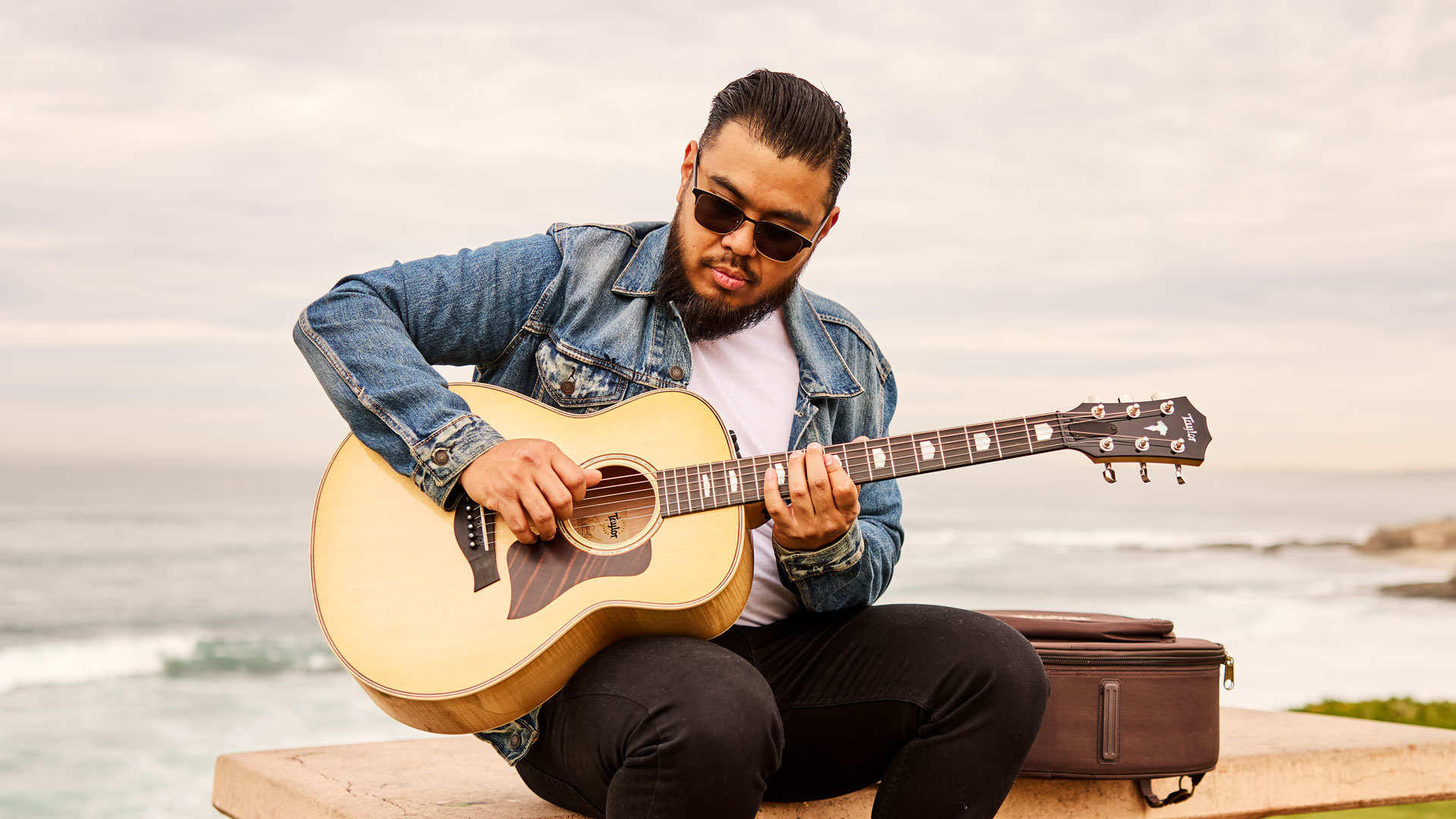 Back/sides: Figured Big Leaf Maple
Top: Sitka Spruce
Body Shape: GT (Grand Theater)
Bracing: C-Class
Fretboard: West African Ebony
Price: $3,499
Case: Brown AeroCase
This year's update also includes a handful of new models with our compact GT body shape. Leading the pack is a limited-edition model: the GT 611e LTD.
Made with figured Big Leaf maple back and sides with a Sitka spruce top, this all-solid-wood GT serves up a bold voice that balances clear articulation with surprising low-end warmth and presence. The C-Class bracing inside translates the benefits of the V-Class design to the smaller GT body, specifically increasing the bass response along with volume and sustain. The GT's shorter scale length contributes to a loose, slinky feel for your fretting hand, and its compact dimensions make for an accommodating experience whatever your playing style.
Visually, the GT 611e LTD dazzles with a glossy Antique Blonde finish that highlights maple's natural beauty. It also mirrors the visual details of its big brother, the Grand Orchestra 618e, with the distinctive Mission inlay design in shell and mother-of-pearl, along with a stained maple pickguard.
Don't wait on your chance to try the GT 611e LTD—it won't be around forever.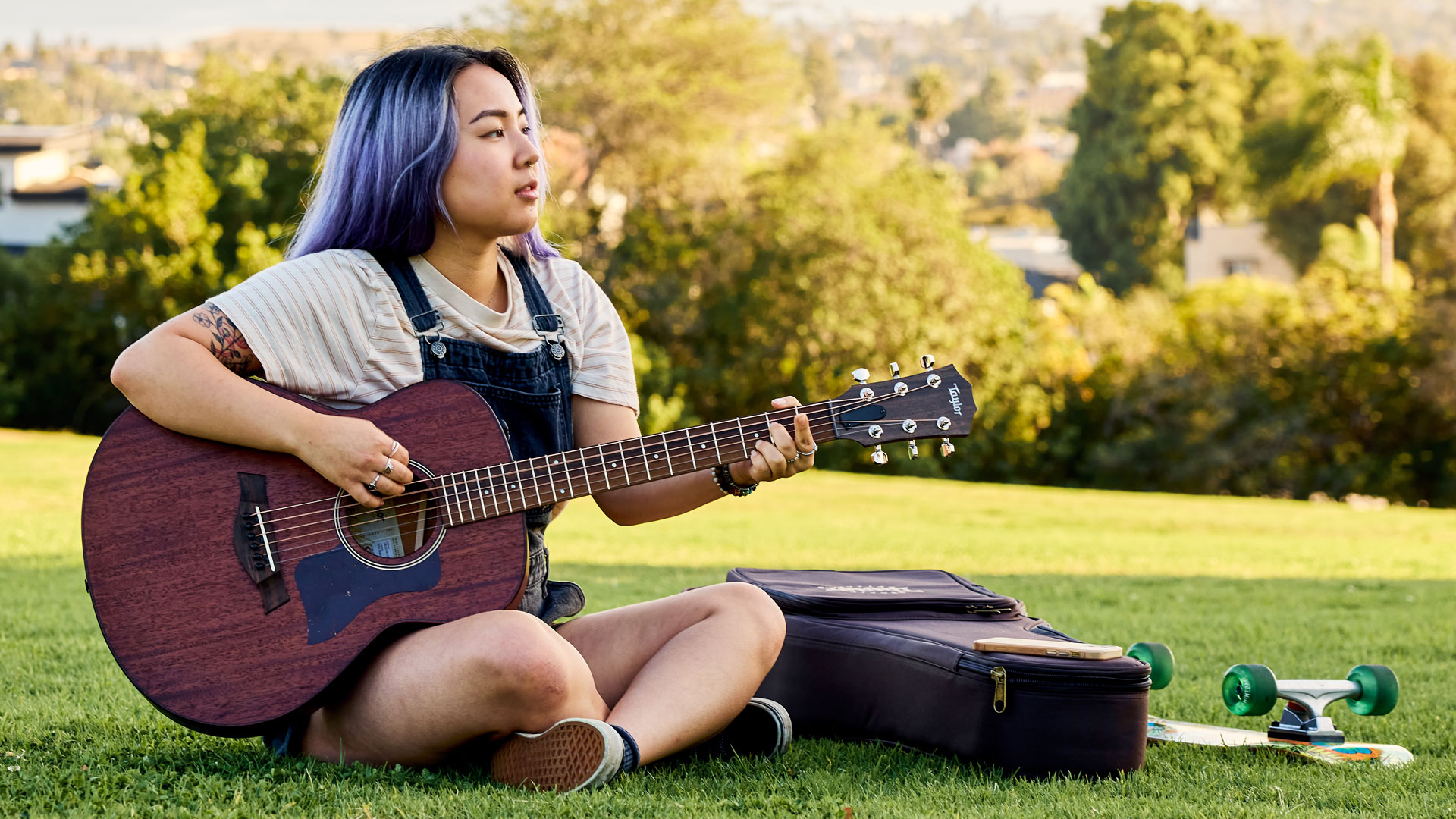 Back/sides: Neo-Tropical Mahogany
Top: Neo-Tropical Mahogany
Body Shape: GT (Grand Theater)
Bracing: C-Class
Fretboard: Eucalyptus
Price: $1,699
Case: Brown AeroCase
Our January 2022 update concludes with two more new GT models that will join the standard lineup with the GT Urban Ash, GT 811e, and GT K21e.
The first of the pair is the GTe Mahogany. As you might guess, this model features solid mahogany back, sides and top, presenting an organic, woody aesthetic that matches its tone. You'll hear all of the focus and midrange presence you'd expect from mahogany, with a touch of extra bass resonance delivered by the C-Class bracing. As with the AD22e, the hardwood top helps smooth out the attack for a more balanced sound, making it a great option if you plan to do any recording through either the optional ES2 pickup and preamp or a microphone. The eucalyptus fretboard offers a best-of-both-worlds experience for players, with a feel reminiscent of a rosewood fingerboard and a tonal response similar to ebony.
Back/sides: American Walnut
Top: Spruce
Body Shape: GT (Grand Theater)
Bracing: C-Class
Fretboard: Eucalyptus
Price: $1,799
Case: Brown AeroCase
Finally, the GT family receives a stylish new entry in the GTe Blacktop, which sports a striking matte-finished black top treatment that sets it apart visually.
Back and sides of solid walnut offer a dry, woody response that may initially sound similar to mahogany. However, walnut's unique aging properties mean that it will develop and mature as you play the guitar over time, resulting in a deeper, fuller voice with more bloom in the bass range. With the solid spruce top, this model produces a rich midrange character balanced by clean highs and warm lows, along with enough power clarity to perform in virtually any musical scenario. The C-Class bracing under the hood adds more projection and sustain, adding up to a robust response that punches far above the GT's size. Optional ES2 electronics provide faithful amplified tone, and the included AeroCase offers reliable protection at one-third the weight of a traditional hardshell case.
Where to Find New for 2022 Taylor Guitars
Ready to give these new models a try for yourself? Use our Dealer Locator tool to find a store near you carrying these guitars. Our customer service team can also help by answering any questions about our new guitars before you head to the music shop.