Summer NAMM 2019 took place in Nashville, Tennessee on July 18-20, and Taylor Guitars was there with a range of new guitars, fresh upgrades, and even a couple of limited edition models. Here's what we rolled out this summer.

A Fresh Wave of V-Class Grand Concert Guitars
We've been working hard to bring our game-changing new bracing scheme to more guitars, and this summer, we're happy to share even more Grand Concert models that have been enhanced with the tone-shifting power of V-Class bracing.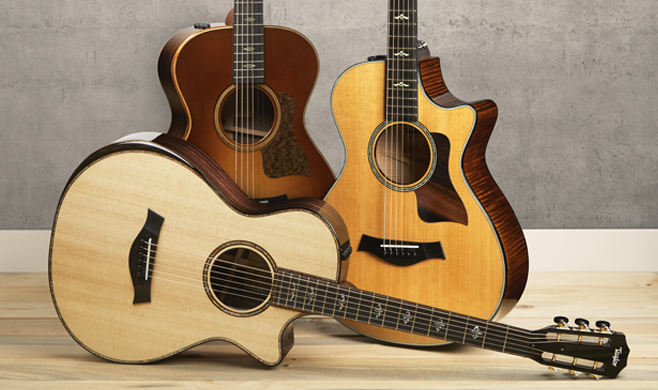 A rundown for the uninitiated: V-Class bracing, which Taylor introduced at the Winter NAMM show in 2018, is a new sonic engine that fundamentally changes how acoustic guitars create sound. The new design adds strength and rigidity along the centerline of the guitar, propelling energy into the strings for notes that sustain and bloom as you hold them. Meanwhile, the V-shaped bracing allows the guitar's top to vibrate in a controlled, even manner, supporting louder volume while remaining dynamic and player-responsive.
Our latest batch of V-Class Grand Concert guitars spans the 400, 600, 700, 900, Koa, and Presentation Series. Combined with past releases, that means you'll find V-Class bracing on almost every Grand Concert and Grand Auditorium guitar from the 300 Series to the Presentation Series. This also includes Builder's Edition guitars that showcase a handful of player-friendly ergonomic touches along with the new interior architecture. Speaking of which…

New Builder's Edition K24ce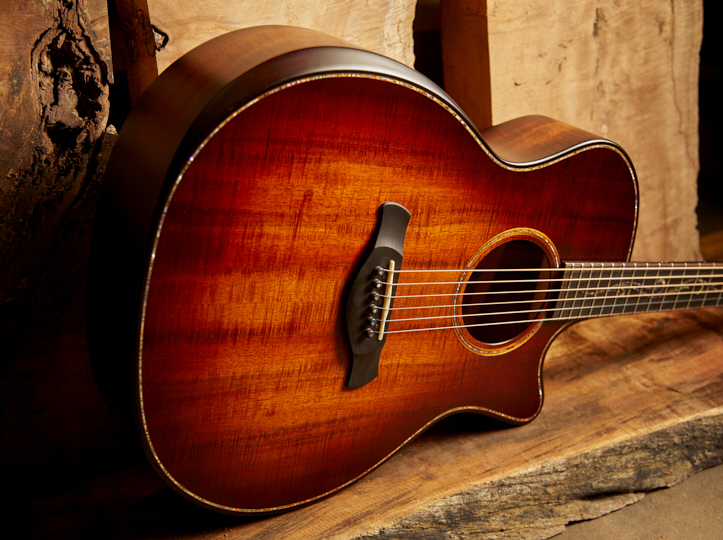 The Builder's Edition K14ce was a smash when we showcased it at the 2018 Winter NAMM show, and we couldn't be happier to expand our koa offerings featuring the player-focused details that define our Builder's Edition design philosophy. This all-koa Builder's Edition K24ce features V-Class bracing under the hood and produces acoustic tone characterized by sparkling treble notes and vibrant midrange presence—articulate and balanced, but not without warmth and body. We've outfitted this model with the finest appointments from the Builder's Edition family, including our double-contoured cutaway design, which allows you to play all the way down the neck without adjusting your hand position, and a carved armrest on the upper edge of the guitar's lower bout. Add in koa's rewarding aging process—you'll find that koa guitars sound sweeter as you play them in over the years—and you have a guitar that we're proud to place on the upper echelon of our lineup.

New Grand Concert 12-String Guitars
The introduction of V-Class bracing has offered us a chance to evaluate the entire line and play with unique models that bring players a truly specialized slice of musical utility.
From the 300 Series, we've brought V-Class bracing to the 352ce and 362ce, two 12-string models that deliver exceptional tone and playability in the comfortable Grand Concert frame. The 352ce combines sapele back and sides with a Sitka spruce top for a traditionally shimmery, sweeping 12-string sound, while the 362ce's pairing of blackwood with a mahogany top lends a dry midrange and a touch of low-end presence. You'll find that the small footprint of the Grand Concert model makes the 12-string experience more accessible than ever thanks to its small frame, while the addition of our new bracing pattern adds power and sustain to both models while ensuring accurate intonation all the way down the neck. These are some of the most tuneful 12-strings you'll ever play.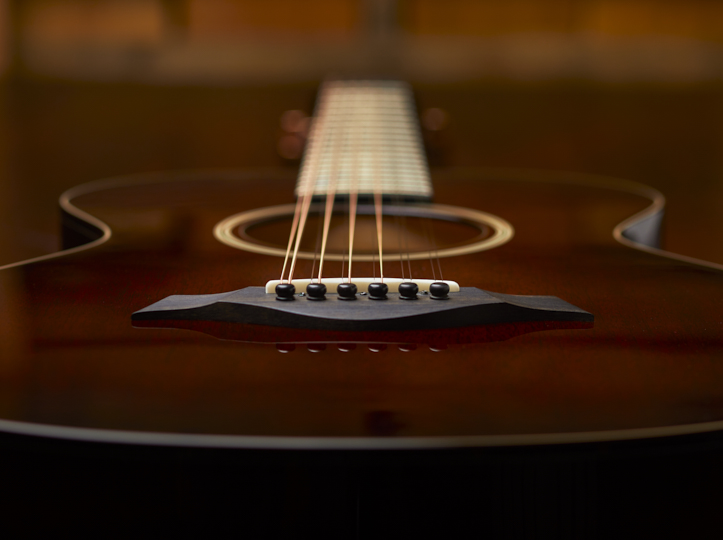 Meanwhile, the 500 Series also has two enhanced 12-string models to offer in the 552ce and 562ce. The former features a western red cedar top with mahogany back and sides, blending the characteristic dryness of mahogany with the cedar's warmth and soft-touch response. The 562ce is an all-mahogany 12-string, full of midrange presence and clear overtone bloom thanks to the power of V-Class bracing.
We've also added a new double-mounted string anchoring system to these 12-string models, which allows two strings to be anchored at the bridge under a single pin. It's a more stable way to set up a 12-string guitar, and we think players will love the simplicity.
All-Black 200 DLX Guitars
This year also brings a few fresh faces to our layered wood models, among which you'll find stage-quality guitars that produce rich Taylor tone at a more accessible price. This year, we've added a dark flair to the 200 Series with a pair of guitars that feature an alluring black finish: the 214ce-BLK DLX and the 12-string 250-BLK DLX. The 214ce-BLK DLX includes a solid spruce top for top-end sparkle and room-filling power, matched with layered maple back and sides. The 250-BLK DLX, an all-acoustic 12-string with a Dreadnought-style body that produces big, grandiose tone rich with octave shimmer, also features layered maple back and sides with a spruce top. Both are appointed with crisp white binding and sharp inlays that strike an eye-catching contrast against these guitars' black finish treatment.

Sunburst 100 Series
It's always rewarding to enliven some of our guitars with new styles and aesthetic features, and this summer we're giving 100 Series a new coat of paint. You'll find models like the 114ce, 110ce, 150e, and the nylon-string 114ce-N that now feature a vintage-hued satin sunburst finish treatment, adding a bit of visual flair to the most playable, accessible line of guitars on the market.

New Big Baby Taylors in Walnut
Our popular budget-friendly Big Baby enjoys a refresh this summer as well, as we've changed up the specs to include layered walnut back and sides with a solid spruce top. You'll find one all-acoustic model and one with built-in ES-B electronics.
All-Koa Baby Taylor
This handsome all-koa edition of our three-quarter-size Baby Taylor mini Dreadnought features a solid koa top, layered koa back and sides, and Taylor ES-B electronics. Summer is the perfect time to bust out your travel-size guitar, and this koa variety is sure to soundtrack many warm evenings this year.
You can find all of the models announced at Summer NAMM 2019 at authorized Taylor dealers later this season.