Taylor's rollout of musically inspiring new acoustic models continues with the Builder's Edition 814ce and a trio of mahogany-topped American Dream guitars featuring a shaded edgeburst.
Leading the charge is the Builder's Edition 814ce, which manages to level up the musical virtues of our award-winning flagship rosewood/spruce Grand Auditorium 814ce. Guided by the design mission of our Builder's Edition collection — to create an ultra-premium playing experience in both feel and sound — the guitar boasts an upgrade in its soundboard material, from solid Sitka spruce to solid Adirondack spruce.
The original 814ce has long been considered the quintessential Taylor guitar thanks to its classic rosewood/spruce tonewood pairing in tandem with Taylor's cutaway Grand Auditorium body style. Together, the rich tone, musical versatility and signature playability have given players a refined workhorse tool for many different playing styles and musical applications. Sonically, the new Builder's Edition counterpart yields slightly more power and dynamic range, while the ergonomic contouring of the body and neck take Taylor's legendary playability to a new level of comfort.
The Adirondack spruce top is meticulously constructed from four carefully bookmatched, quartersawn pieces. (Tops traditionally feature two-piece construction.) This approach acknowledges the changing availability of tonewoods and the need to adapt by applying skilled woodworking techniques to utilize smaller-size pieces in instrument building. The result is a high-performance soundboard that delivers the sonic benefits of Adirondack spruce — enhanced complexity and a higher volume ceiling — along with visually pleasing grain symmetry.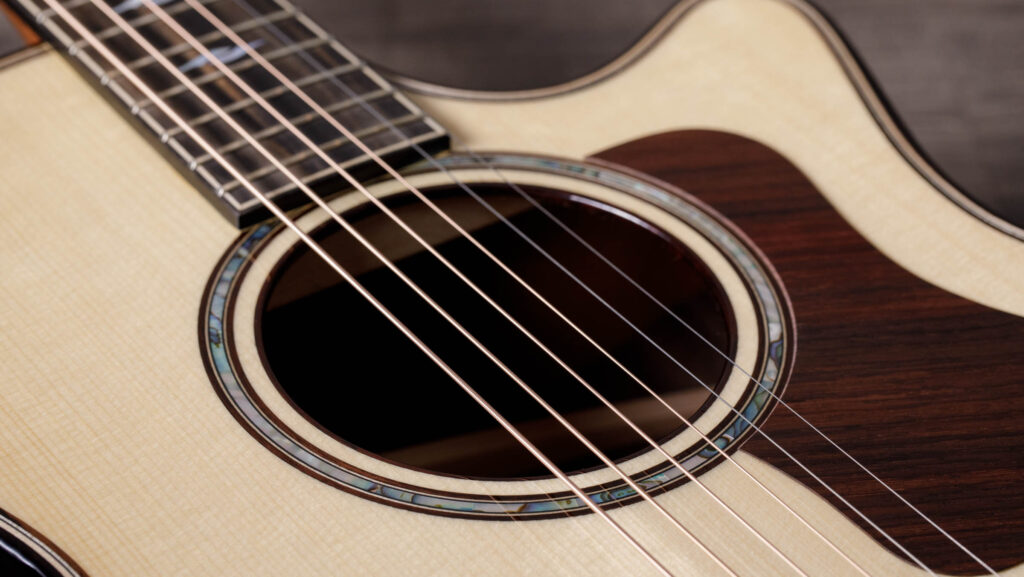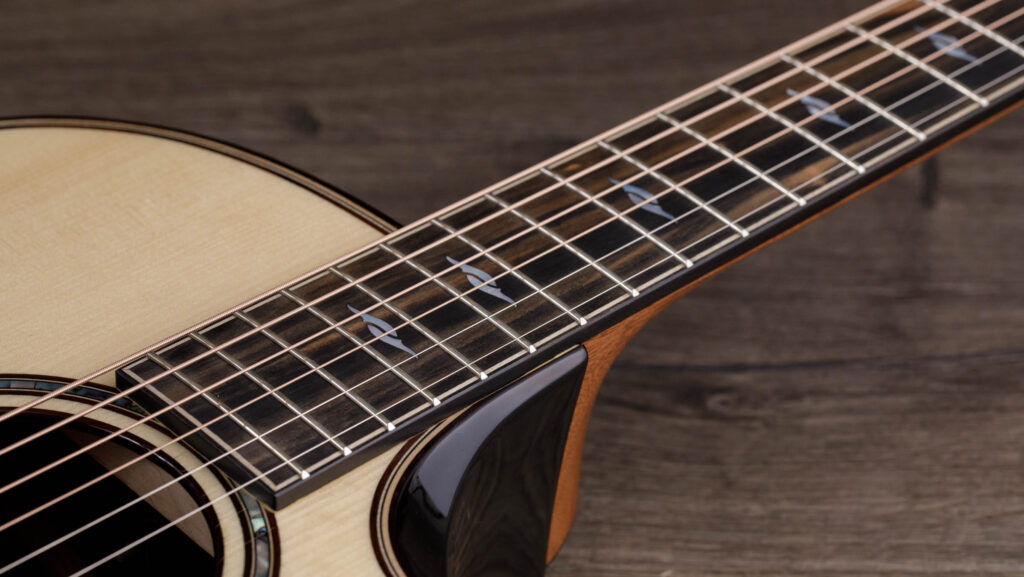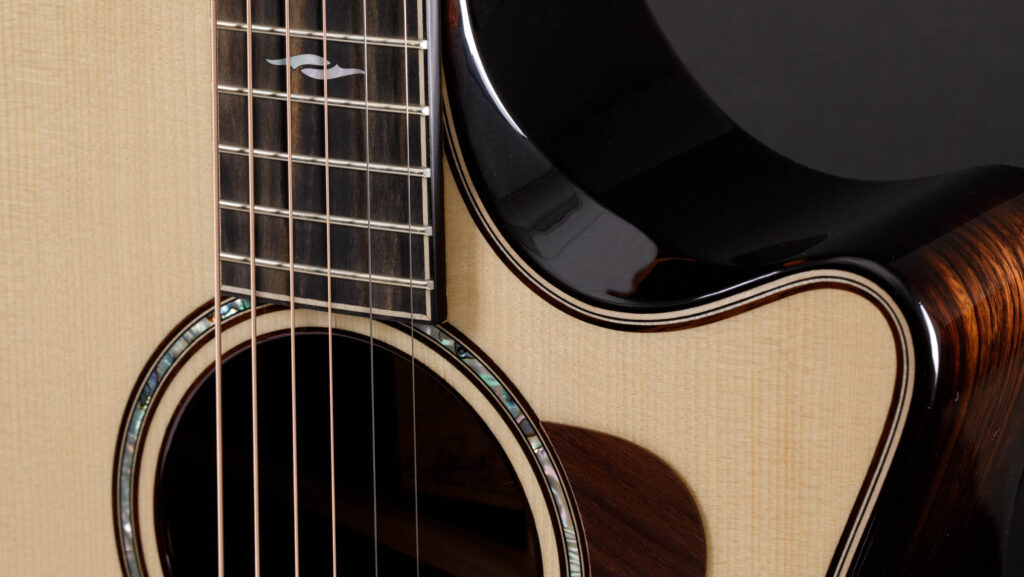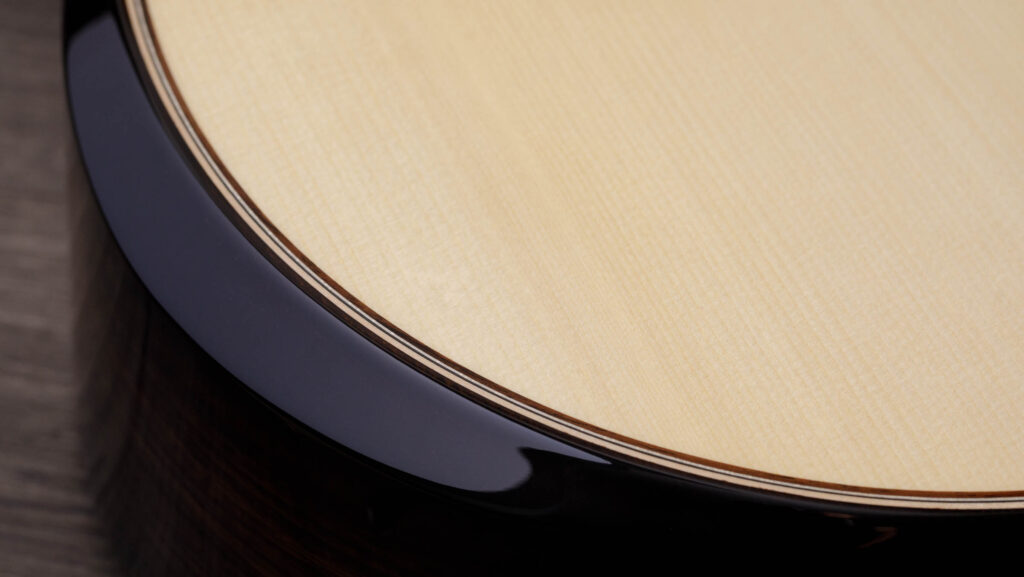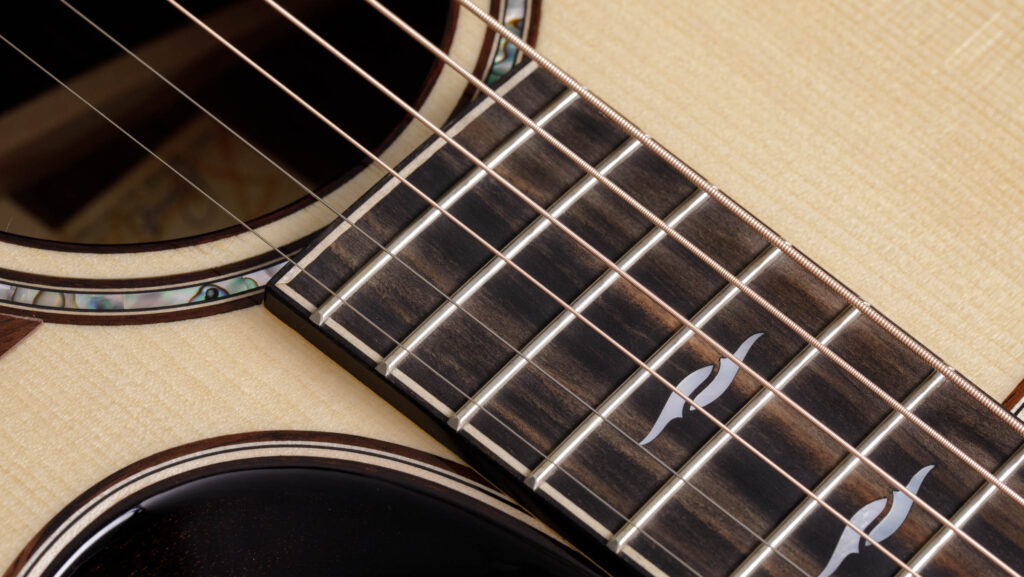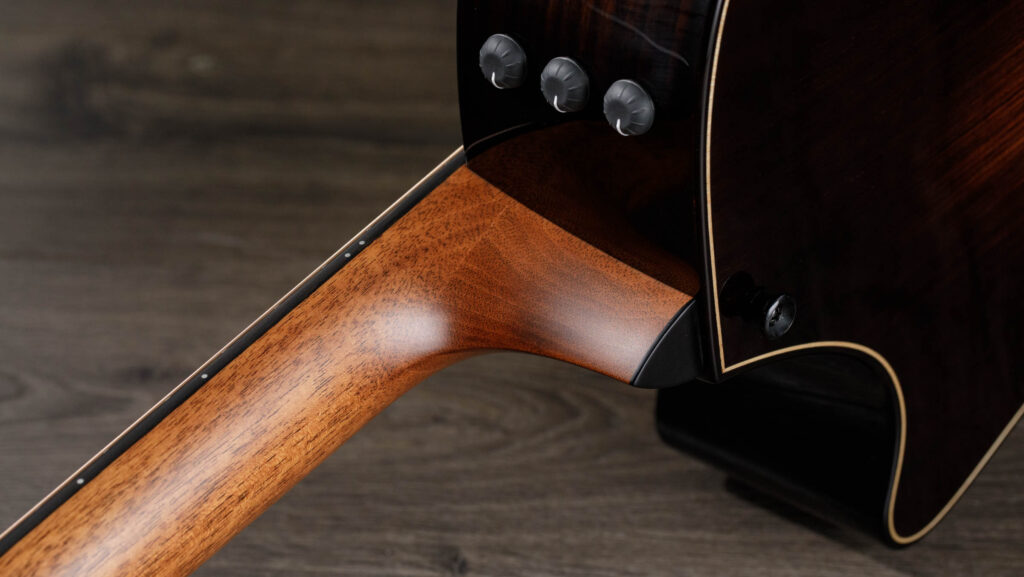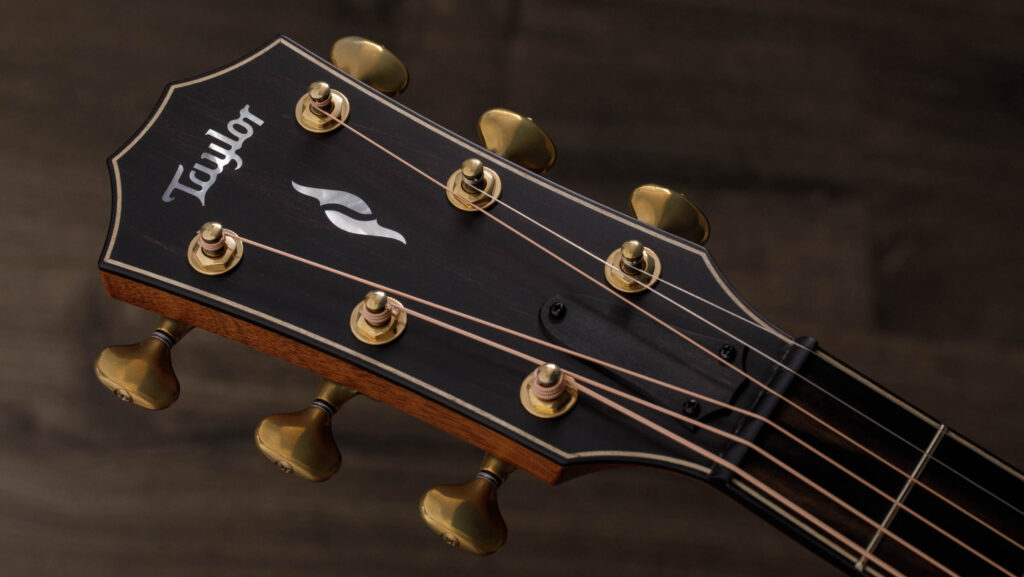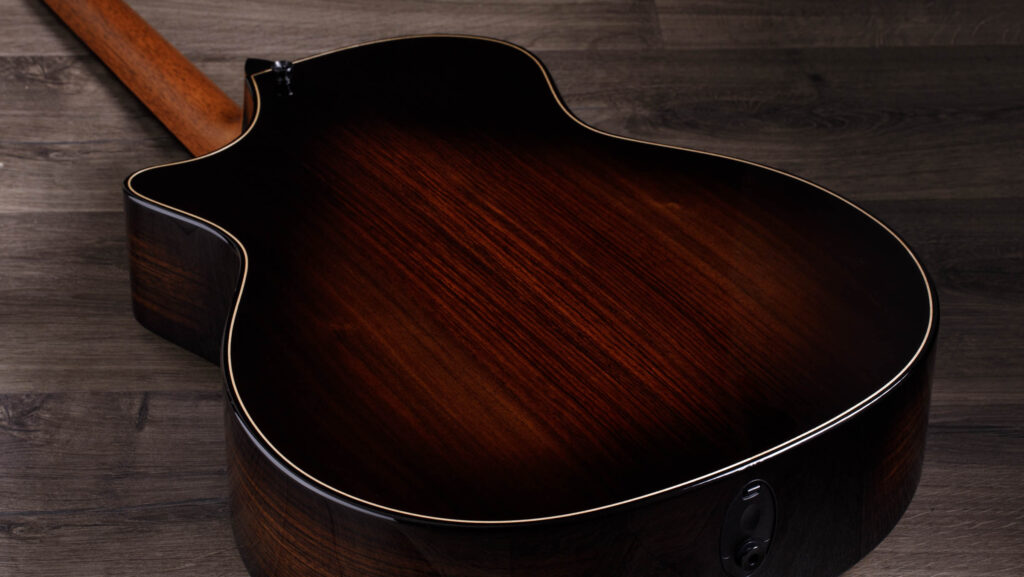 Comfort-enhancing woodworking features include a beautifully sculpted beveled cutaway for effortless high-register access, while a beveled mahogany armrest provides a smooth surface for the player's strumming arm. Internally the guitar is voiced with a specially modified V-Class bracing architecture and includes slight alterations in the taper of the body. It's also the only model in the Builder's Edition collection to feature a gloss-finish body, an aesthetic touch designed to visually highlight the elegant body contouring and sophisticated craftsmanship.
Other premium appointments on the Builder's Edition 814ce include a Kona edgeburst on the back and sides, Gotoh 510 tuners in antique gold (which offer a highly precise 21:1 gear ratio), our contoured Curve Wing bridge (exclusive to Builder's Edition models), alternating maple and black top purfling with rosewood edge trim, and a rosewood pickguard. The Builder's Edition 814ce ships with ES2 electronics and a deluxe brown hardshell guitar case.
Explore the Builder's Edition 814ce
American Dream Models with an Edge(burst)
Meanwhile, our all-solid-wood American Dream Series continues to evolve. After introducing three sunburst-topped spruce/walnut models earlier this year (the Grand Theater AD11e-SB, Grand Concert AD12e-SB and Grand Pacific AD17e-SB), we're excited to unveil another trio of models in the same body styles, but with a hardwood mahogany top, sapele back and sides, a firestripe pickguard, and shaded edgeburst around the body and heel of the neck. A thin matte finish complements the dusky look and evokes a bluesy, throwback vibe.
Technically, two of the models, the Grand Concert AD22e and Grand Pacific AD27e, are reintroductions featuring the above-mentioned aesthetic updates, while the Grand Theater model (AD21e) is the second GT to join the American Dream Series. All three models feature chamfered body edges and dot inlays.
AD21e
The mahogany/sapele tonewood pairing, together with the compact GT body, will produce a focused, woody sound that responds to a more aggressive attack with meaty midrange punch. GT models features our proprietary C-Class bracing, which gives the guitar a low-end turbo-boost.
AD22e
Another small-body contender, this Grand Concert model sports a slightly narrower waist than the GT, giving it an intimate feel when playing seated. It makes a great fingerstyle guitar, yet with the hardwood top and V-Class bracing inside, it's also well-suited for flatpicking and strumming.
AD27e
The bigger Grand Pacific body and mahogany/sapele wood pairing make this a stout acoustic workhorse. The hardwood top levels out the response, allowing players to dig in and enjoy a balanced output across the tonal spectrum, with pleasing low-end clarity thanks to the V-Class bracing.
Test-drive the new Builder's Edition 814ce and American Dream models at a Taylor dealer near you.