We've always loved building guitars with Hawaiian koa, and we're thrilled to announce two new acoustic guitars crafted with this beautiful, rich-sounding tonewood: the 724ce and the 722ce, now the centerpieces of our koa 700 Series lineup.
For years, the Koa Series has been the dedicated home of our solid-wood Hawaiian koa guitars within the Taylor acoustic lineup, presenting a family of high-end guitars featuring figured koa and crafted to yield a smooth attack with a rich, refined voice and an aesthetic to match it. But in recent years, as we've gained more direct access to koa logs through our koa stewardship efforts in Hawaii, we've encountered other visually distinctive varieties of koa—sporting a beautiful range of coloration, with straight grain structure. This inspired us to bring this gorgeous tonewood to a new place within the line, our 700 Series, offering players a unique take on the koa sound and aesthetic.
The koa 700 Series features koa we're calling "Select grade," which offers an ideal balance of all the qualities that makes koa popular among guitar players: aesthetic beauty, midrange sparkle, clear highs and a low-end range that will bloom over time and play. Compared to our Koa Series guitars, the 724ce and 722ce incorporate some internal voicing modifications and an ultra-thin finish, which help produce a splashy, energetic voice with a punchy attack. You'll hear that classic koa midrange warmth, with a lively response across the tonal spectrum, delivering more of koa's natural, unfiltered sound.
Here are the primary features you can look for in these new 700 Series guitars.
Taylor 700 Series Featuring Hawaiian Koa – Specs and Features
Select Grade Hawaiian Koa
Both models in the new 700 Series feature top, back and sides of solid Select-grade Hawaiian koa, which we've voiced for a lively response with a punchy attack, sparkling trebles and a rich midrange.
Body Shapes
We're starting the new 700 Series with two models. The 724ce is a Grand Auditorium, which players love for its overall balance and versatility, as well as its relaxed feel. The 722ce is a Grand Concert, which has slightly more compact dimensions than its sibling. Players often seek out Grand Concert models for their articulation and clarity, which makes them excellent recording tools.
V-Class Bracing
Like all solid-wood models in the Taylor line, both new guitars in the 700 Series are built with V-Class bracing, which provides greater volume, longer sustain and improved harmony between notes all the way down the neck. The back bracing is slightly modified compared to that of the Koa Series.
Super-Thin Matte Finish
In the past, we've used some of our higher-end models (such as the 800 Series) to experiment with exceptionally thin finish applications that maximize resonance and allow the guitar to produce a bolder sound. In that same line of thinking, we've outfitted the new 724ce and 722ce with a new ultra-thin matte finish, which not only minimizes the sonic damping but also showcases the rich grain and coloration of the Hawaiian koa while preserving the raw, natural texture of the wood. You'll be able to feel the pores and structure of the wood as you play, an experience that reflects the direct musical response of these guitars.
Fountain Inlays
To visually express the unique identity of these 700 Series guitars, master builder Andy Powers created a new inlay design called Fountain, which appears in mother-of-pearl. It's an elegant, understated pattern that adds a sophisticated visual cue without distracting from the overall presentation of these guitars.
Other Aesthetic Appointments
Rounding out the visual style for the 724ce and 722ce are other appointments featuring natural materials like wood and shell: Indian rosewood binding (including a bound soundhole), a rosette in paua shell accented with maple and rosewood, top edge trim in maple and rosewood, a striking dark-stained maple pickguard, and polished bronze tuning machines.
Meet the Models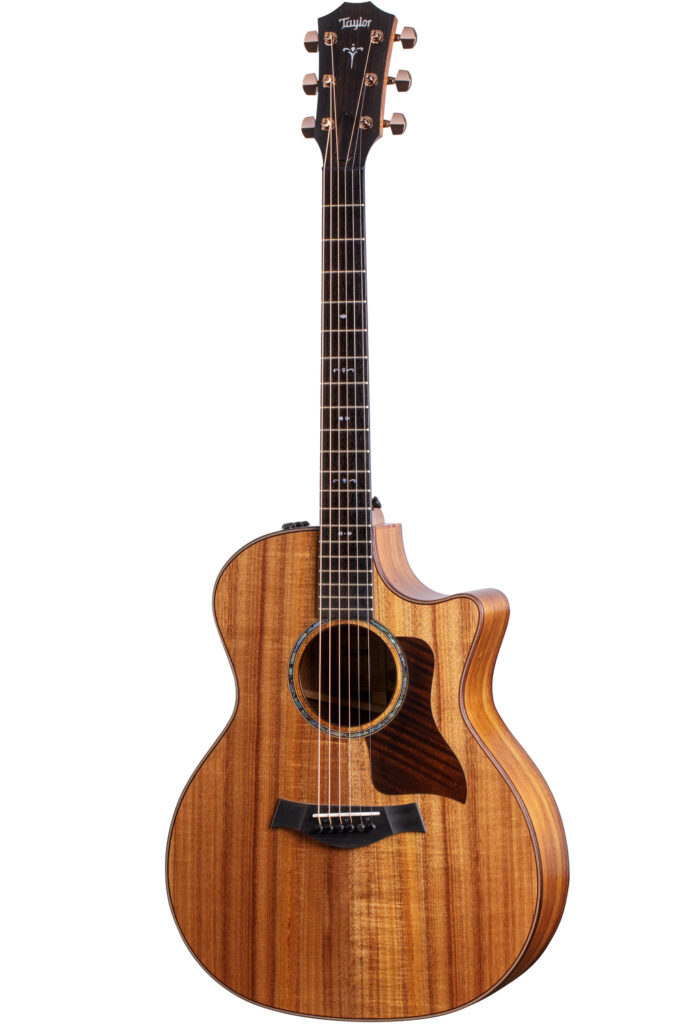 724ce
The all-new Grand Auditorium 724ce yields a rich, vibrant sound that remains balanced and clear across the tonal spectrum.
Explore the 724ce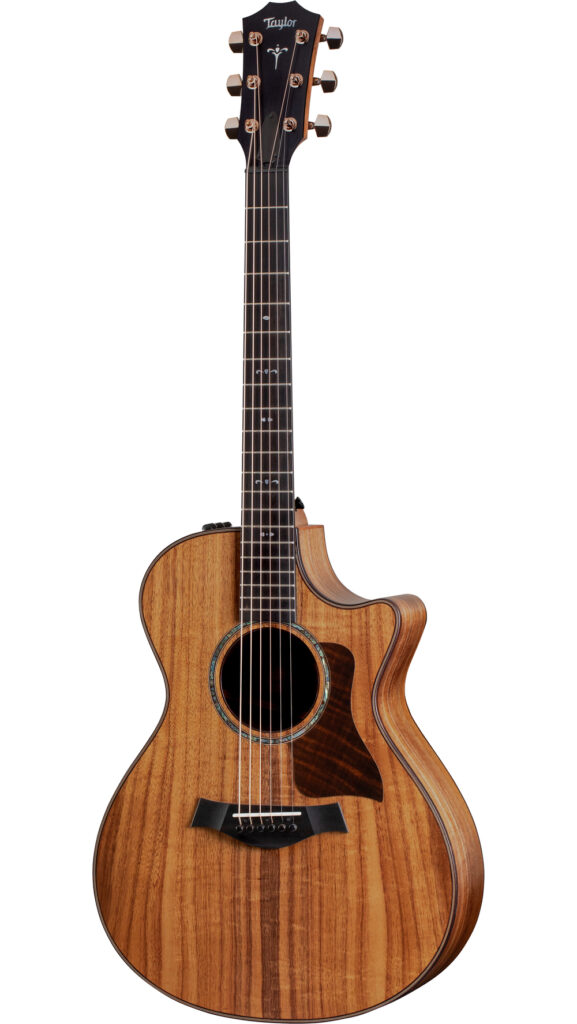 722ce
With its compact profile and accommodating contours, the Grand Concert 722ce serves up a textured voice with splashy trebles and a springy attack that showcases koa's woody midrange.
Explore the 722ce
Find a Taylor Dealer
Ready to give these all-new koa 700 Series models a test-drive? Use our dealer locator to find a shop near you.