Fans of Taylor Guitars have likely witnessed the evolution of the venerable 400 Series over the years, from its past iteration as a home for African ovangkol to its recent update to Indian rosewood and Sitka spruce.
The crux of the 400 Series has always been musical utility. Featuring all-solid-wood construction, these guitars have offered working musicians a reliable musical tool that can perform at a pro level across a broad range of applications, including recording and performance, without being too precious to handle the rigors of everyday play and travel.
Now, we're giving the series another update with fresh aesthetics and a new trio of models to entice working guitar players with rich, versatile tone and eye-catching appointments. Though the new models feature visual refinements, they remain the all-purpose workhorse guitars they've always been at heart.
The revamped 400 Series showcases three models: the Grand Concert 412ce, the Grand Auditorium 414ce, and the Grand Pacific 417e. The first thing you'll notice is the striking tobacco sunburst top. The appointment package for all three models also includes white binding, black and white top purfling — which add a crisp visual pop around the dusky sunburst — single-ring agoya shell rosette, gloss-finish body, nickel tuners and a faux tortoiseshell pickguard.
We've also developed a new "Finial" inlay design inspired by the artistic flourishes historically employed by woodworkers and architects. The inlay is composed of Italian acrylic and is featured on all three 400 Series guitars.
Every 400 Series model comes equipped with onboard ES2 electronics for clean, organic live sound and ships with a deluxe brown hardshell case for secure storage and protection.
400 Series Specifications
Back/Side Wood: Solid Indian Rosewood
Top Wood: Solid Sitka Spruce
Neck: Neo-Tropical Mahogany
Fretboard: West African Crelicam Ebony
Nut Width: 1-¾"
Scale Length: 24-⅞" (412ce), 25-½" (414ce/417e)
Bracing: V-Class
Electronics: ES2
Guitar Protection: Deluxe Hardshell Case, Brown
Strings: D'Addario XS Coated Phosphor Bronze, Light Gauge (412ce/414ce), D'Addario XS Coated Phosphor Bronze, Medium Gauge (417e)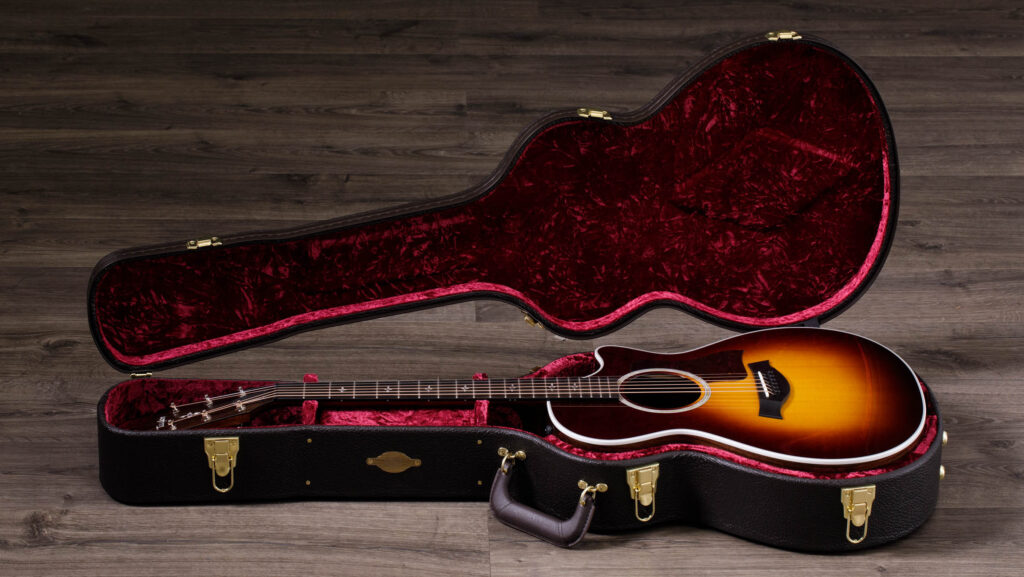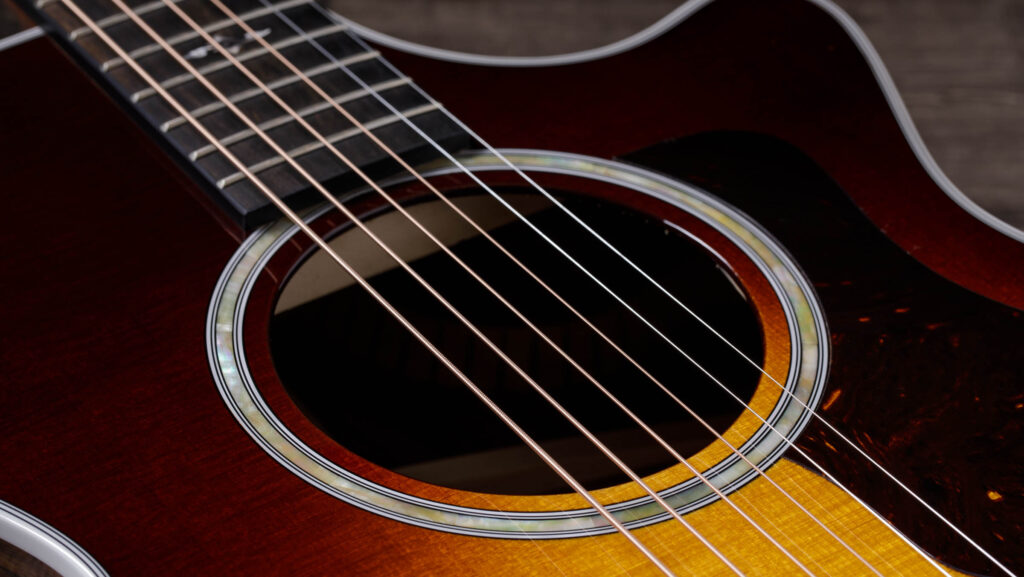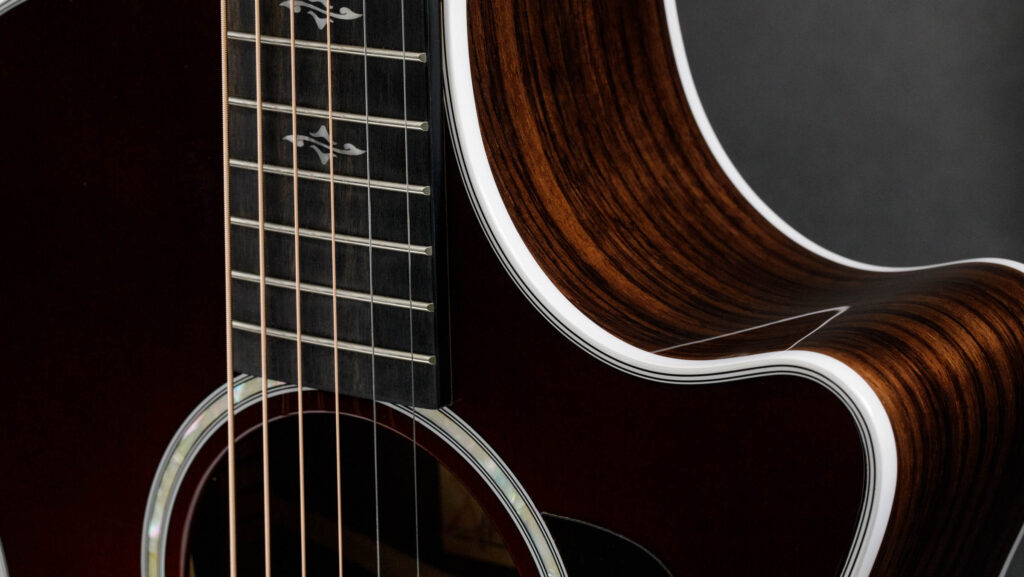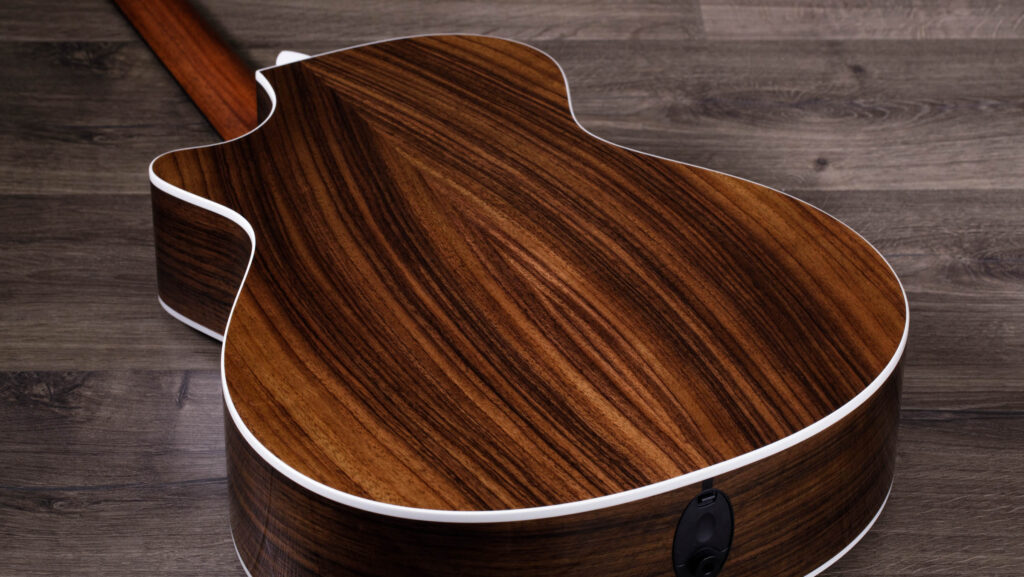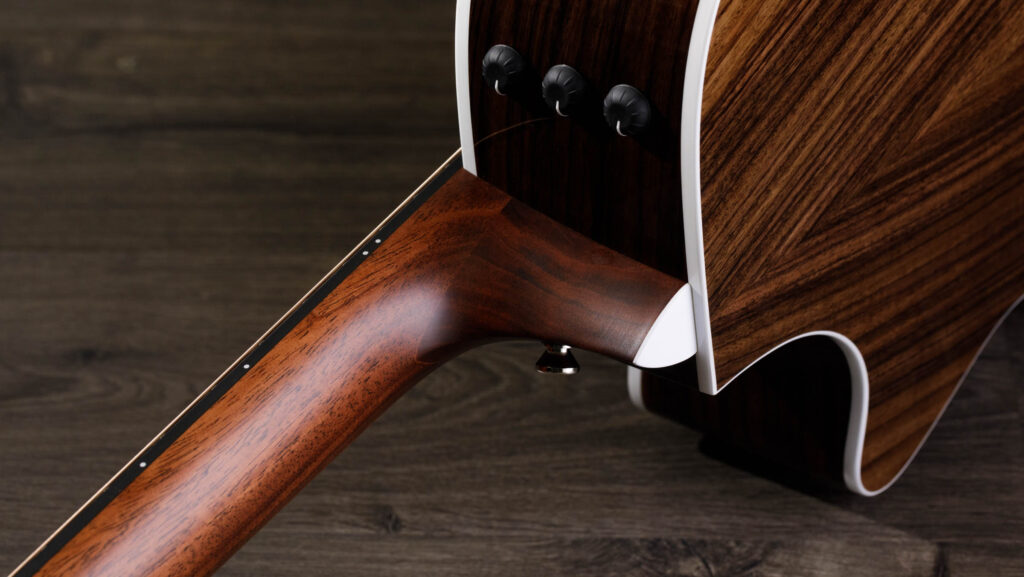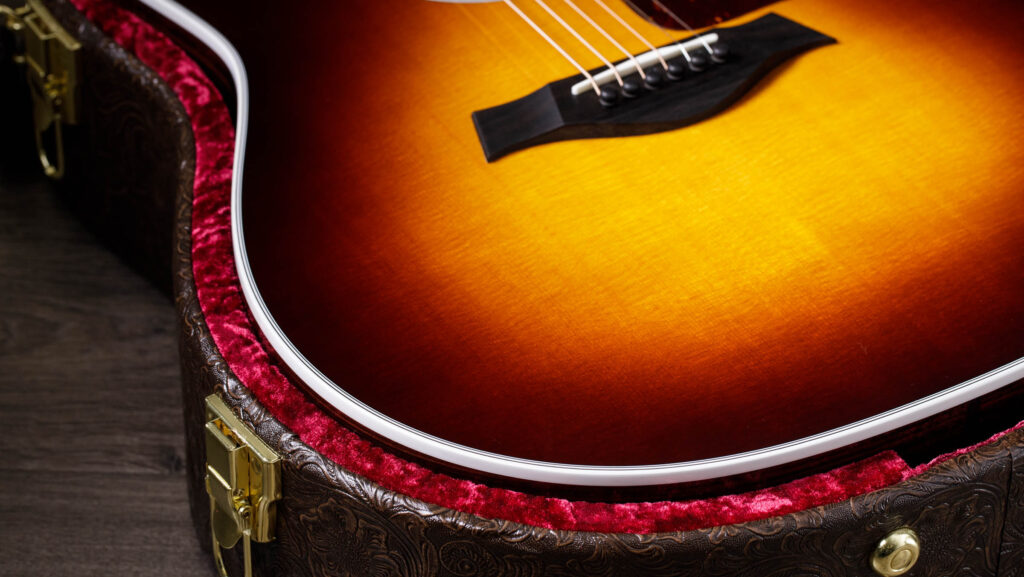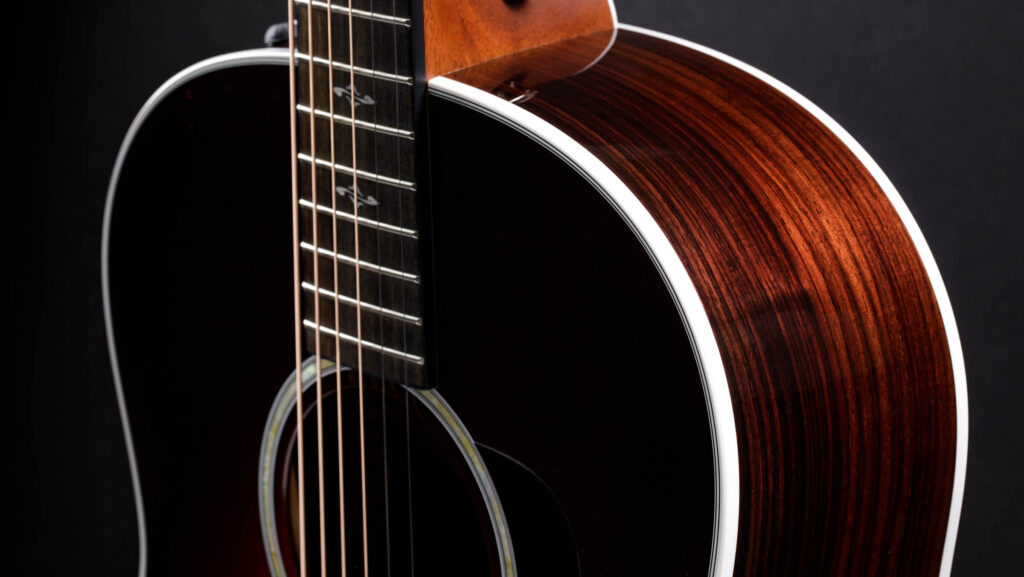 Crafted in the U.S. with solid Indian rosewood back and sides and a Sitka spruce top, the 412ce features our Grand Concert body shape, offering players an accommodating feel thanks to the body's compact dimensions. The rosewood/spruce pairing yields a pleasingly rich low-end response matched with crisp trebles and a slightly scooped midrange, which makes it an ideal option for players who sing while performing or play alongside other instruments. The Grand Concert is especially useful for fingerstyle players or anyone interested in recording applications, thanks to its uniquely clear, articulate and responsive voice. Inside, our V-Class bracing design punches up louder volume and longer sustain, drawing out more of the rosewood/spruce combo's lustrous overtones along with greater harmony between notes all the way up the neck.
Our Grand Auditorium guitars are beloved for their versatility and wide-ranging musical capabilities, and that remains true of the new 414ce. With slightly larger dimensions than its Grand Concert sibling, the 414ce delivers a bold voice with rich sustain and blooming harmonic overtones, with enough volume to perform as a strummer without losing the clarity that makes it useful for flatpickers and fingerstyle players. If you're looking for a high-performance acoustic-electric guitar that can handle virtually any task, the 414ce might be the right choice for you.
Finally, we're excited to introduce our Grand Pacific round-shoulder dreadnought body shape to the 400 Series with the new 417e, a non-cutaway model with a uniquely neo-vintage style inspired by old-school acoustic recordings. Combining a big, commanding voice with a richly seasoned tone with notes that blend and overlap into a seamless whole, the 417e yields clear, usable low-end power without the "woof" effect that sometimes comes with larger body shapes. The V-Class bracing inside helps coax out more volume and longer sustain, dialing up even more overtone texture for a truly distinctive tone profile that will especially appeal to songwriters and anyone inspired by classic acoustic vibes.
You'll find all three new 400 Series guitars at authorized Taylor dealers now, or you can shop the new trio through TaylorGuitars.com.
Have questions about the 400 Series? Hit us up on social media or reach out to our customer service team.