Recently, we made waves in the guitar world by introducing our revolutionary V-Class bracing design, an innovation that reimagines what the acoustic guitar can do and opens up new creative avenues for players. We're excited to announce that this month, there will be several more guitars equipped with V-Class bracing in stores. Starting in the 800 Series and its Deluxe counterpart, each part of the Taylor line down through the 500 Series will now feature a Grand Auditorium model that is outfitted with V-Class bracing. That means more tonewood options, a wide variety of sounds, and lower price points. We've also included a new peghead inlay on all of the new V-Class models, so look out for that fresh design when you head to the acoustic room at your local music store.
Keep an eye out for these models and check your local dealer for availability.


Back/Sides: Indian Rosewood
Top: Sitka Spruce
Though our first wave of V-Class guitars featured a rosewood model, the stunning 914ce, we knew it would soon be time to bring the power of V-Class bracing to our flagship 800 Series. The 814ce has long been one of our most desired models, thanks to its versatility, balance, and rich overtones–all qualities that are enhanced and redefined by the new bracing design. Likewise, we've updated the 814ce's Deluxe counterpart to feature V-Class bracing, complementing our radius armrest to provide a musical experience that's big on both comfort and performance. In addition to longer sustain, louder volume, and improved intonation, the V-Class design adds extra overtone bloom to the already sparkling sound of these guitars. For those drawn to the overtone response of rosewood, the V-Class treatment adds a more balanced, orderly expression, allowing those overtones to grow as notes bloom without fighting each other. Either of these Grand Auditorium models will inspire rosewood fans in a whole new way.


Back/Sides: Indian Rosewood
Top: Lutz Spruce
For lovers of rosewood, this V-Class offering reveals a treasure trove of tone with a personality all its own. Our Grand Auditorium 714ce boasts a solid Lutz spruce top instead of Sitka, available with either a natural top finish or a striking Western Sunburst. Lutz, as described by Taylor master guitar designer Andy Powers, produces a distinct response that sets it apart from other Sitka-top models, and to his ear sounds similar to old-growth Adirondack spruce.
"It has power and headroom, but without sounding brash," Andy says. "It doesn't sound brittle; it's not overly aggressive. It has a ton of warmth."
Powered by the V-Class architecture, the updated 714ce has a singular ability to showcase more of the warmth and complexity of rosewood, with plenty of extra tonal output to satisfy demanding players. Strummers will have a blast with this guitar.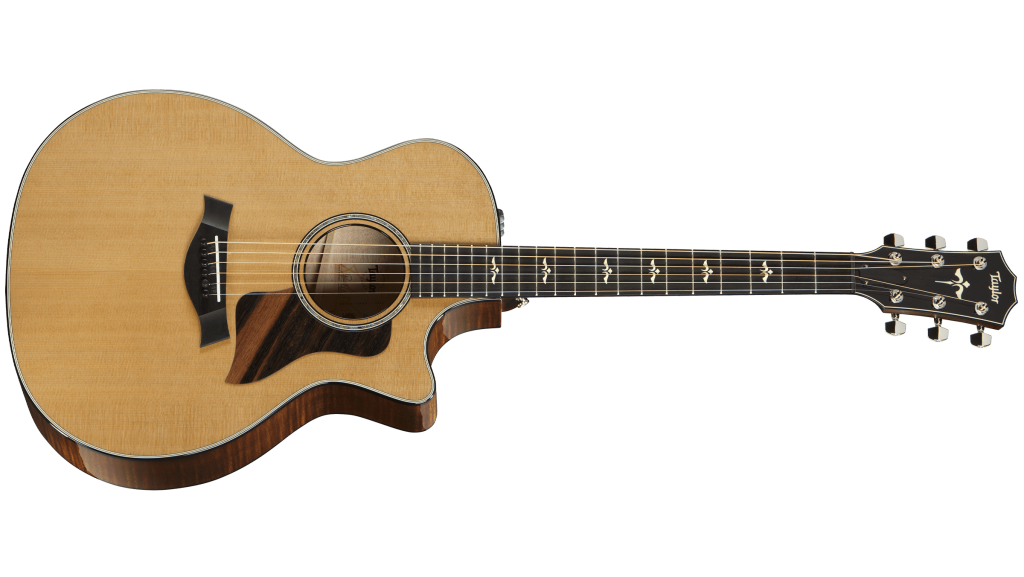 Back/Sides: Big Leaf Maple
Top: Torrefied Sitka Spruce
Having recently redesigned Taylor's maple 600 Series to introduce a new dimension and a fresh voice, Andy Powers knew that V-Class bracing would be a great fit for the 614ce. Maple's transparent, focused sound can be extremely versatile, thanks to how well it reflects the person playing it.
"It's capable of so much sonic color," he says. "More than most any other guitar we make, this will sound like the player — it can sound bright, it can sound warm, or anything in between. It's possibly the most touch-sensitive guitar we've built. You barely rest your finger on the string and it'll start responding."
With a clear, vibrant tone that can cut through any mix, the new V-Class 614ce dials up the power and sustain to give players more expressive range than ever. Responding with shimmer to a strumming touch and articulation to a more careful fingerpicked approach, the 614ce's maple back and sides are paired with a specially roasted Sitka spruce top, which provides a more open, played-in sound meant to mimic the effects of time on wood. Players who appreciate a wide dynamic range or who enjoy playing in alternate tunings will especially appreciate maple's touch response and player sensitivity, making it a satisfying choice for virtually any style.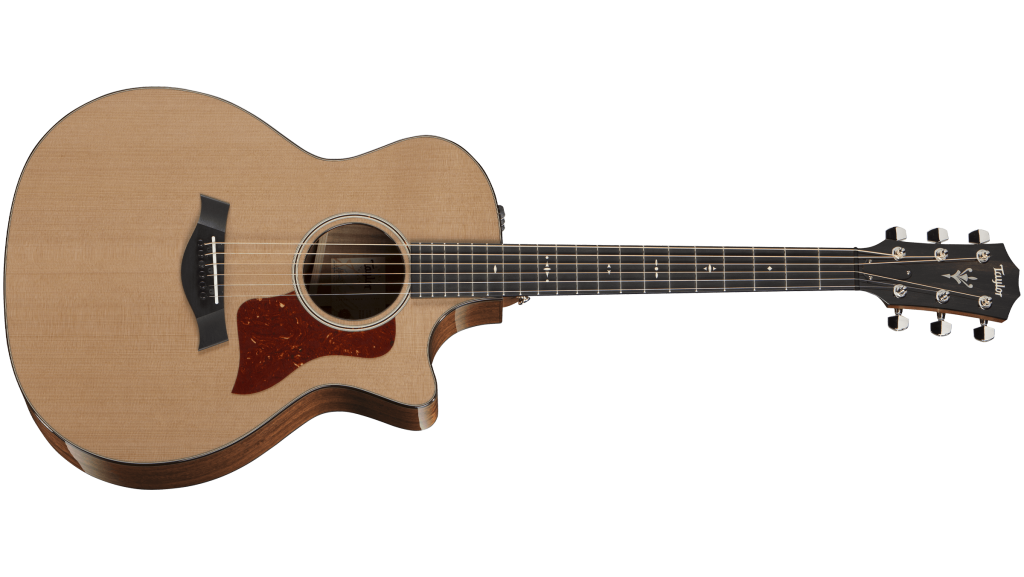 Back/Sides: Neo-Tropical Mahogany
Top: Western Red Cedar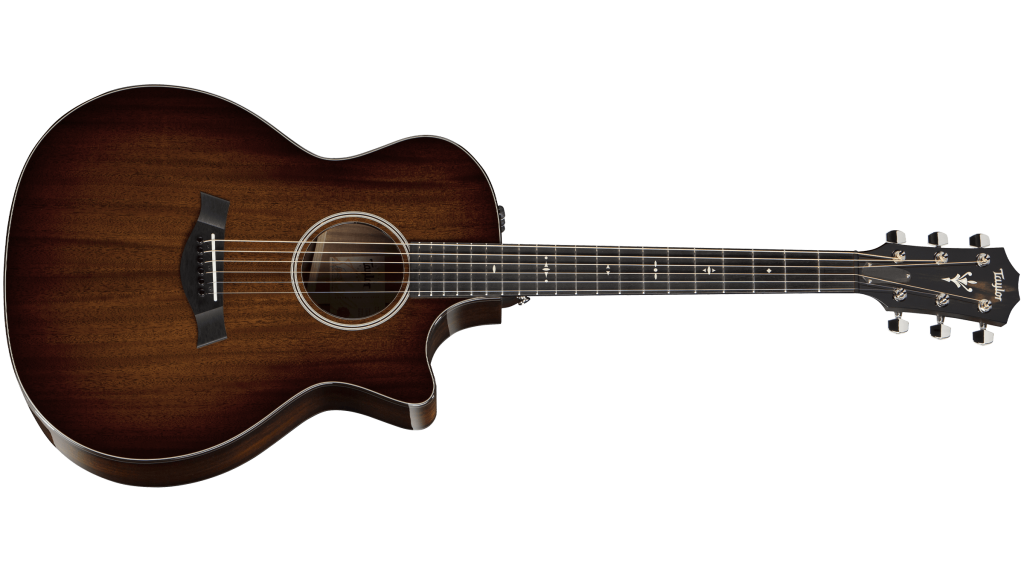 Back/Sides: Neo-Tropical Mahogany
Top: Neo-Tropical Mahogany
With two new additions to the 500 Series, the V-Class family has expanded its horizons to include mahogany, and the results speak for themselves. The mahogany/cedar 514ce serves up plenty of mahogany's characteristically dry, transparent qualities, plus added definition and color thanks to V-Class bracing. The cedar top, typically known for its warmth and friendly response to a soft touch, yields greater volume with the new bracing design, increasing the guitar's headroom to make it more accessible for players with a stronger attack. Players will love the blend of complex harmonic content and dynamic range.
The 524ce, meanwhile, is an all-mahogany delight, yielding a naturally compressed, balanced tone (courtesy of the hardwood mahogany top) that makes it a good choice across musical genres and playing styles. The top delivers a dry, player-reflective tone that can be easily accented by the player's technique, and with V-Class bracing, the 524ce boasts a wider dynamic range and a more harmonically balanced tone, most noticeably in the guitar's upper register. It will make an excellent instrument for strummers, fingerpickers, and aggressive lead players alike.