On March 12, Taylor Guitars and West Coast Arborists (WCA) took part in a statewide tree-planting event across California, as 28 communities planted a total of 2,000 trees in a single day. The event, branded "AMPlifying the Urban Forest," was funded by a grant from the California Department of Forestry and Fire Protection (CAL FIRE) as part of the California Climate Investments Program. Other event partners included the California Urban Forests Council (CaUFC), the Western Chapter of the International Society of Arboriculture (WCISA) and the Britton Fund.
The planting event underscored Taylor's commitment to support the re-greening of the urban canopy and stands out as an important part of our innovative Urban Wood partnership with WCA, which began in 2020. As an established arborist, WCA provides tree management services to over 300 municipalities and public agencies across the state, caring for over 6 million trees. Their work includes everything from planting and maintaining trees in public spaces to removing them when they reach the end of their life cycle.
The multiple-city planting event was held not only to help renew urban landscapes but to highlight the idea that trees should be planted with an "end-of-life" use in mind. This is the key strategy behind our Urban Wood initiative, in which Taylor and WCA work to turn end-of-life city trees such as Shamel ash into fine musical instruments. Developing high-value products like guitars with this wood is one more step toward creating a circular economy that supports the re-greening of our urban infrastructure by creating jobs around the planting, maintenance and repurposing of urban trees.
Taylor employees were on-hand at two locations for the planting events — one in our home base of El Cajon, California, and another in the neighboring city of Santee. Taylor VP of Product development Ed Granero spoke at both events, along with the mayors and other elected officials from each city.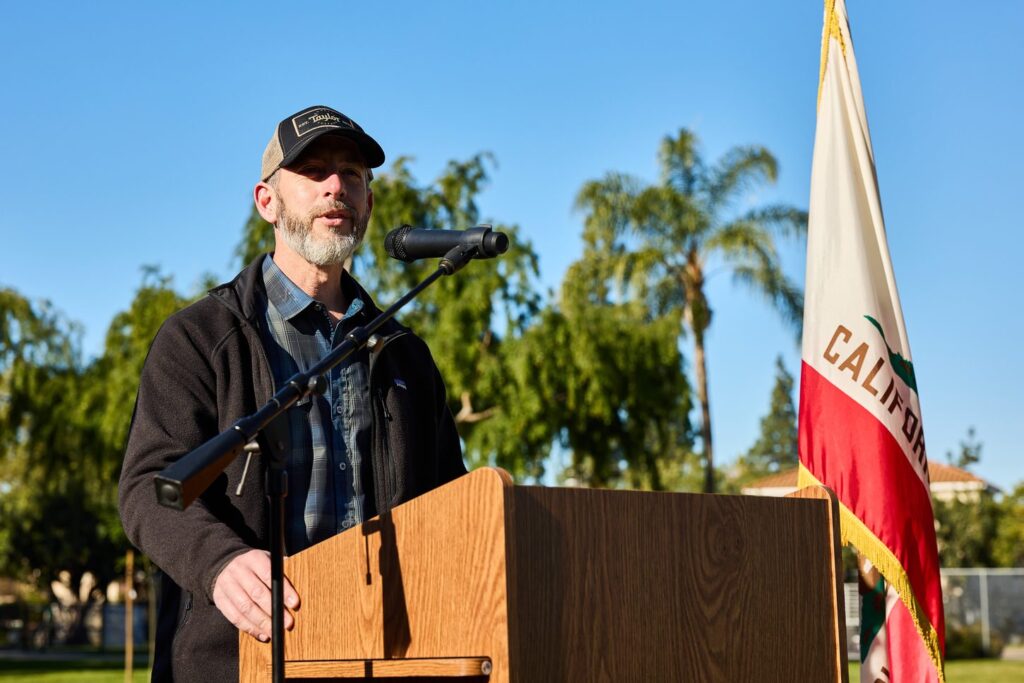 "As a company that relies on natural resources such as trees, we feel a responsibility to give back more than we take, and that means planting trees for the future," Granero told attendees, including community volunteers and local residents. "By purchasing wood from West Coast Arborists to make guitars, we hope to support the funding of additional planting projects to add more trees to our communities."
Taylor also donated a GT Urban Ash guitar for the statewide event. Tree-planting volunteers at all locations were invited to enter a sweepstakes for a chance to win the guitar.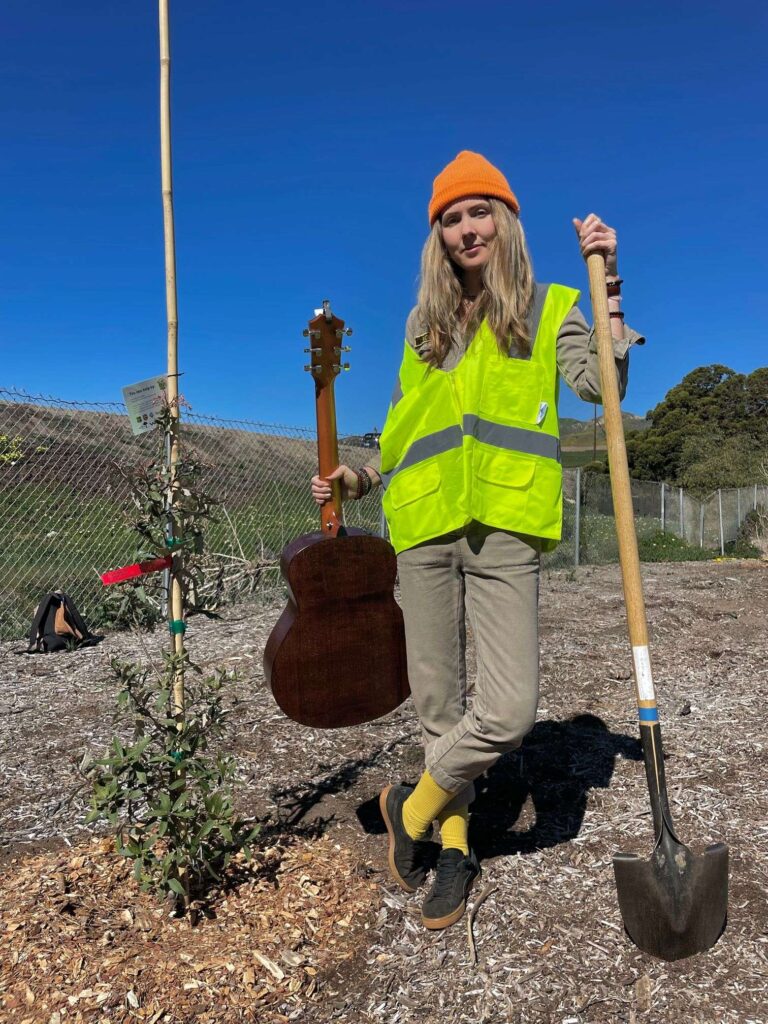 At another event in the city of Ventura, Taylor artist Beatie Wolfe, a passionate environmental activist, spoke as a Taylor ambassador and helped plant trees.
The various tree species planted were selected to anticipate the future of urban forestry, featuring climate-adaptive trees whose water needs, greenhouse gas mitigation potential and end-of-life use opportunities will position them for success in urban environments.
Elsewhere, Taylor has partnered with Tree San Diego, a local nonprofit dedicated to increasing the quality and density of San Diego County's urban forest cover, under a separate CAL FIRE grant named "Branch Out San Diego," that will plant over 1,500 trees in underserved communities in the San Diego metropolitan area. Scott Paul, Taylor's Director of Natural Resource Sustainability, serves as Tree San Diego's Board Chair and participates in ongoing tree planting events under this grant.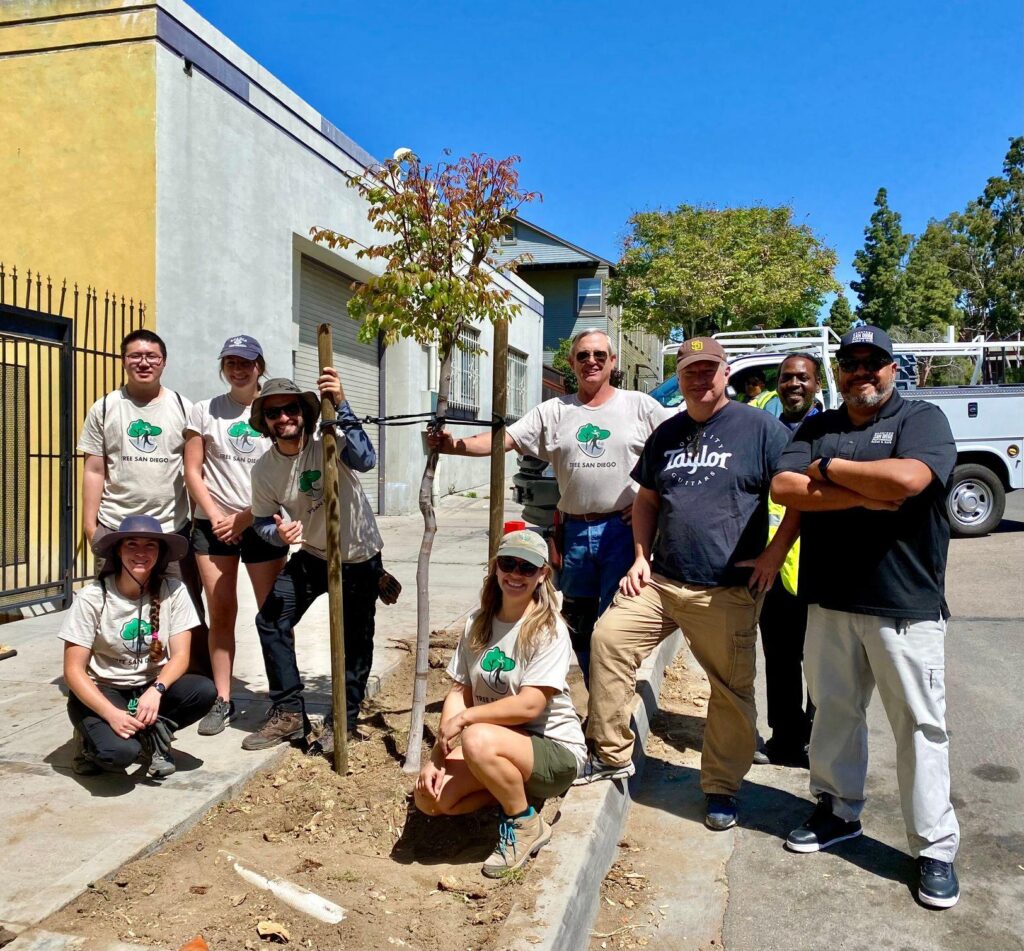 You can read more about Taylor's collaboration with West Coast Arborists here.