Jason Mraz
It's always a good day when a local kid has new music to offer. Grammy-winning singer-songwriter Jason Mraz returned to the music scene this August with his sixth studio LP, Know., his first since 2014's Yes!. A longtime member of the Taylor artist family who honed his craft in the small venues around San Diego, Mraz dropped his new record after making his Broadway debut earlier this year with a stint in the musical Waitress, featuring music and lyrics penned by his pal Sara Bareilles. Know. brings a thoughtful continuation of Mraz's best work, full of memorable hooks, fluid lyrical rhythms, and catchy choruses that practically beg the listener to tap their toes and sing along.
True to his rootsy nature, Mraz has populated the record with acoustic-based tunes that highlight organic sounds and coffeehouse intimacy, albeit with a tasteful production sheen that goes down as smoothly as his buoyant vocals. Acoustic guitars and ukuleles share the spotlight as they have through much of Mraz's work, lending to the album's warm, good-vibes feel. A few years ago, Mraz helped us design the signature nylon-string guitar that bears his name, and the attention to detail and craft he displayed through that process are evident in his new tunes, especially in his strong melodies and empowering, joyful lyricism. "Have It All" jumps out of the gate as an early single and leading track, and the album maintains that song's sense of grace. A duet with pop artist Meghan Trainor, "More Than Friends," captures the thrill of crossing an emotional threshold in a relationship with someone special. From start to finish, it's an album worthy of Jason's refined songwriting chops, and a must-listen for any fan of acoustic pop.
Byron Hill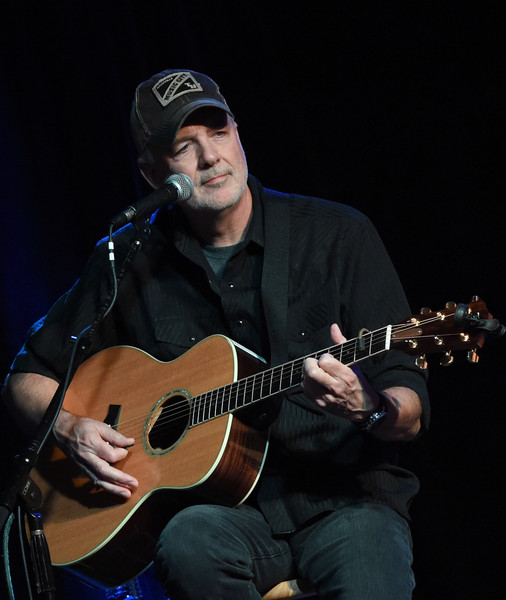 Congratulations to golden-penned Nashville tunesmith Byron Hill (GS8), who was recently voted into the Nashville Songwriters Hall of Fame. Hill joins four other esteemed peers in this year's class of inductees: K.T. Oslin, Ronnie Dunn, Wayne Kirkpatrick and Joe Melson. The induction ceremony will take place during the Nashville Songwriters Hall of Fame gala, slated for October 28 at Nashville's Music City Center.
Hill's prolific songwriting career began after he moved to Nashville and signed his first publishing deal in 1978. Since then, his songs have generated more than 700 recordings, and have been released on 91 industry-certified Gold and Platinum albums and singles. They have earned 10 ASCAP awards, 34 U.S. and Canadian top-ten chart hits, and have become hits in many other worldwide markets.
Notable songs in Hill's recorded catalog include "Fool Hearted Memory" (George Strait), "Born Country" (Alabama), "Pickin' Up Strangers" (Johnny Lee), "Politics, Religion and Her" (Sammy Kershaw), "Nothing On But the Radio" (Gary Allan), "Over You" (Anne Murray), "High-Tech Redneck" (George Jones), "Size Matters" (Joe Nichols), "Lifestyles of the Not So Rich and Famous" (Tracy Byrd), and "The Pages of My Mind" (Ray Charles).
Other iconic artists who've recorded songs written or co-written by Hill include Kenny Rogers, Reba McEntire, Randy Travis, Porter Wagoner, Jason Aldean, Trace Adkins, Toby Keith, Conway Twitty, Barbara Mandrell, The Oak Ridge Boys, and Asleep at the Wheel.
To give you a sampling of Hill's songcraft, we've put together a playlist of some of the tracks Hill has written. You can find it on Taylor's Spotify station.
Juke Ross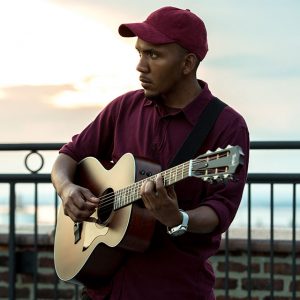 At age 24, Juke Ross (GS Mini, 322ce 12-Fret) has already worn several hats — cricketer, med student, singer-songwriter. The native of Guyana and youngest of 14 children seems to have found his calling with music, penning rich melodies to accompany his inventive lyrics and warm, soulful voice. With a knack for storytelling through song and the guitar skills he's taught himself via YouTube over the years, Ross brings a distinctive feel to his music — an appealing blend of softly fingerpicked acoustic guitar, folk-tinged pop sensibilities, and light Caribbean flavoring, most notably in his stirring vocal phrasing. His talents earned him a spot on the roster of U.S. label Republic Records last year. For an introduction to his music, check out his track "Colour Me."
We recently interviewed Ross in New York City, currently his home base, delving into the ways his personal history has informed his songwriting. Ross first joined the Taylor fold after deciding on a GS Mini with some help from YouTube. In fact, he learned to play with help from online videos by Marty Schwartz, also profiled in this issue. (Ross and Schwartz connected in person over the summer when Schwartz brought Ross on stage during a gig at the Iridium Club in New York City to play a tune). These days, Ross's Mini and his 322ce 12-Fret have become writing and performance staples. Head over to Taylor's website and social accounts for video from the interview, and to JukeRoss.com or your favorite streaming service to hear more from this talented newcomer, including his latest track, "Hey Lil' Mama."