At the start of each year, the Taylor team gears up to tour the country with an arsenal of guitars. With a handful of new guitars and features to share, this year's schedule is looking more exciting than ever.
Here's a rundown of the different events we're hosting across the country in 2018. For a full schedule, check our Events page.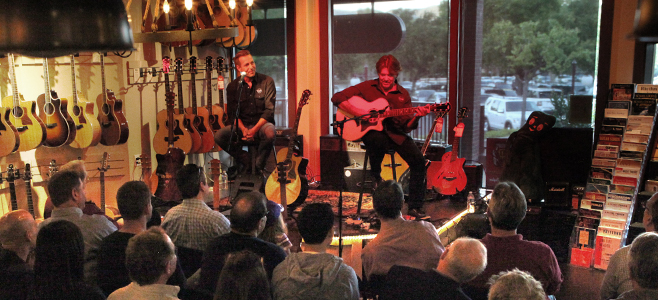 New Model Showcases
If you've been following the Taylor news lately, you know that we recently introduced a set of instruments that completely change the way an acoustic guitar can sound and feel. From our game-changing V-Class bracing to the ultra-refined Builder's Edition, Taylor's spirit of innovation has paid off in a big way, and we can't wait to show you the results. Stop by a New Model Showcase throughout February and March to demo these fantastic new guitars and hear the difference for yourself.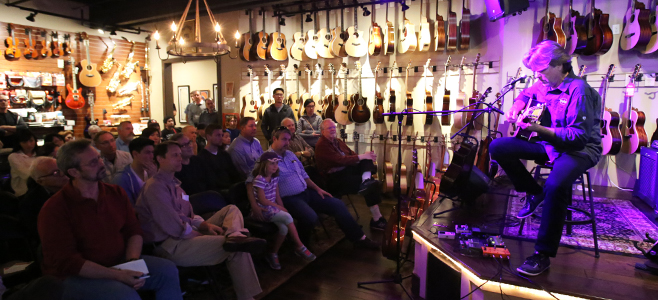 Road Shows
Our award-winning Road Shows are back again in 2018, beginning in mid-March. Guitar gurus from the Taylor factory will visit stores around the country to demo new Taylor products, including a set of guitars that feature our revolutionary V-Class bracing technology. Road Shows are designed to be educational events that help guitarists understand the finer points of guitar construction and design—we'll help you expand your knowledge of acoustic guitars, demonstrating how tonewood selection, body shape, and interior construction all contribute to the unique voice of a Taylor instrument. You'll have the chance to try out new guitars and explore the Taylor line, including Road Show-exclusives that you won't see anywhere else. Join us and discover what makes a Taylor guitar so special.
Find Your Fit
If you're looking to pick out a new acoustic guitar, our Find Your Fit events are a great way to gather information and advice on the best guitar for you. Our factory experts will be in-store to answer your questions about all things guitar-related—we'll help you pick out the right shape, wood pairings, and other features to fit your style and musical needs. If you're not looking to buy, we'll have a range of customs and exclusive models for you to play, and our staff will be there to answer any other guitar questions you might have.