YAOUNDÉ, CAMEROON March 16, 2019 – Today U.S. Assistant Secretary of State for African Affairs Tibor Nagy visited the Crelicam ebony mill in Odza, Yaoundé, as part of a trip designed to promote stronger business ties between the United States and Cameroon. Crelicam is co-owned by the U.S. company Taylor Guitars, the world's best-selling brand of acoustic guitars, and arguably the most innovative. Assistant Secretary Nagy toured the mill and spoke to both workers and management.
"Taylor Guitars' investment in Crelicam is an excellent example of how U.S. investment can improve the lives of ordinary Cameroonians while also helping U.S. businesses grow. We believe real partnerships, like Crelicam and Taylor Guitars, can ensure mutual progress for our two countries."
– U.S. Assistant Secretary for African Affairs Tibor Nagy
After co-purchasing Crelicam in 2011, Taylor Guitars has invested substantial resources to transform Crelicam and the ebony trade in Cameroon. Results include greatly improved working conditions, wages and benefits for Cameroonian employees; technology transfer; and increased in- country value-added processing capability. These efforts have brought greater economic prosperity to Crelicam employees, their families, and the local community representing exactly the type of foreign investment that both the U.S. and Cameroonian governments seek to promote. In 2013, The U.S. Department of State formally recognized Taylor's work in Cameroon, awarding the company the Secretary of State's Award for Corporate Excellence (ACE).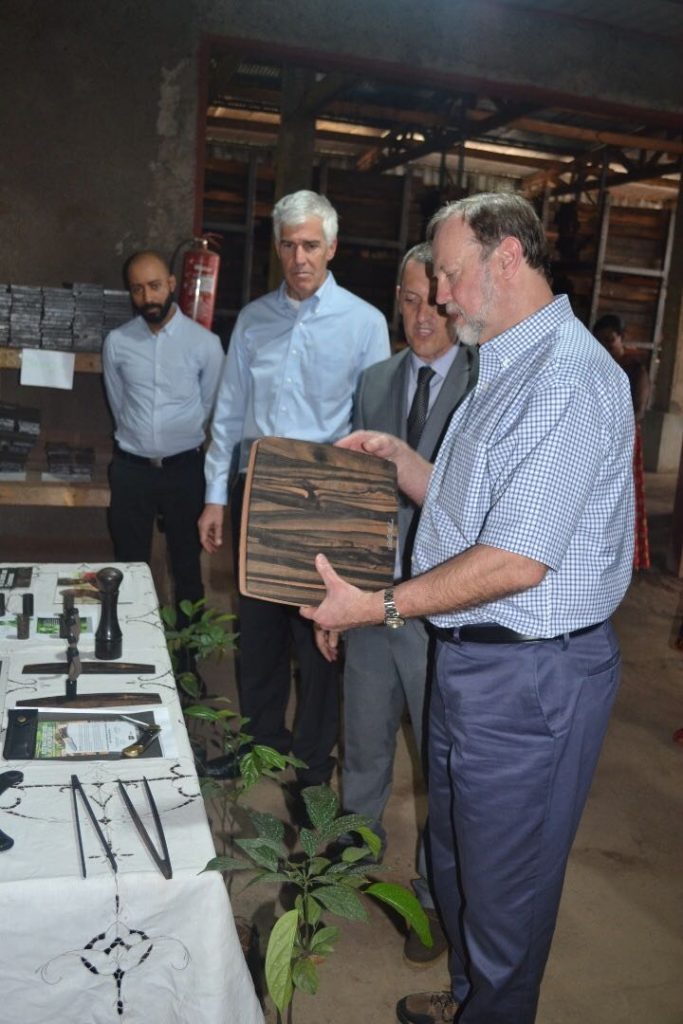 During the visit, Taylor Guitars/Crelicam gratefully acknowledged the ongoing support provided by the Government of the Republic of Cameroon for sustainable practices to preserve Cameroon's vital resources, while creating good jobs and increased in-country value-added processing in Cameroon.  Taylor Guitars/Crelicam also highlighted the Public-Private-Partnership signed between Taylor Guitars and the Cameroonian Minister of Environment, the Honorable Pierre Hélé, at the U.N. Climate Change Conference in Bonn, Germany, on November 14, 2017. This partnership is currently studying the merits of scaling up the ongoing Ebony Project, launched in 2016 and funded by Bob Taylor. The Ebony Project is housed at the Yaoundé-based Congo Basin Institute and conducts groundbreaking research into the ecology of West African ebony. The project is on track to reach its preliminary goal of planting 15,000 ebony trees by the end of 2020. This agroforestry-centered initiative combines the planting of ebony intercropped with local fruit and medicinal trees to benefit participating communities. This April, two planting events will take place, resulting in 1,500 new ebony plants and 1,500 new fruit trees in the ground.