"I'm a tiny girl, and people assume I'm going to have a pretty, soft voice. I've always thrived on that, because it just means I can show them I have a set of lungs on me."
During an April taping of The Tonight Show with Jimmy Fallon, a spotlight fades up on a petite woman holding a gleaming white Taylor guitar before a backdrop of shadowed musicians. The woman is young — she's just entered her twenties, and her small physical stature, for a moment, seems to mirror her upstart status in the music world. Fallon has just introduced her, and the audience roars in response. All eyes — both live and soon, in millions of homes across America — turn to her. So why doesn't Jade Bird look more nervous?
Though this may be her most-watched performance to date, it's hardly her first. Born in Northumberland, England, before a nomadic childhood took her to a handful of locales, Bird seems to thrive under the spotlight. She picked up a second-hand acoustic guitar at 13, and within a year she was already on her way.
"When I was 14, I started gigging in pubs and clubs in South Wales," she says matter-of-factly. She's talking from the seat of a van driving from the site of her Tonight Show performance in New York City to a venue in Washington, D.C. Bird is playing a run of shows this spring in anticipation of her upcoming debut LP, in the wake of a flurry of showcases in March at the South by Southwest festival in Austin, Texas.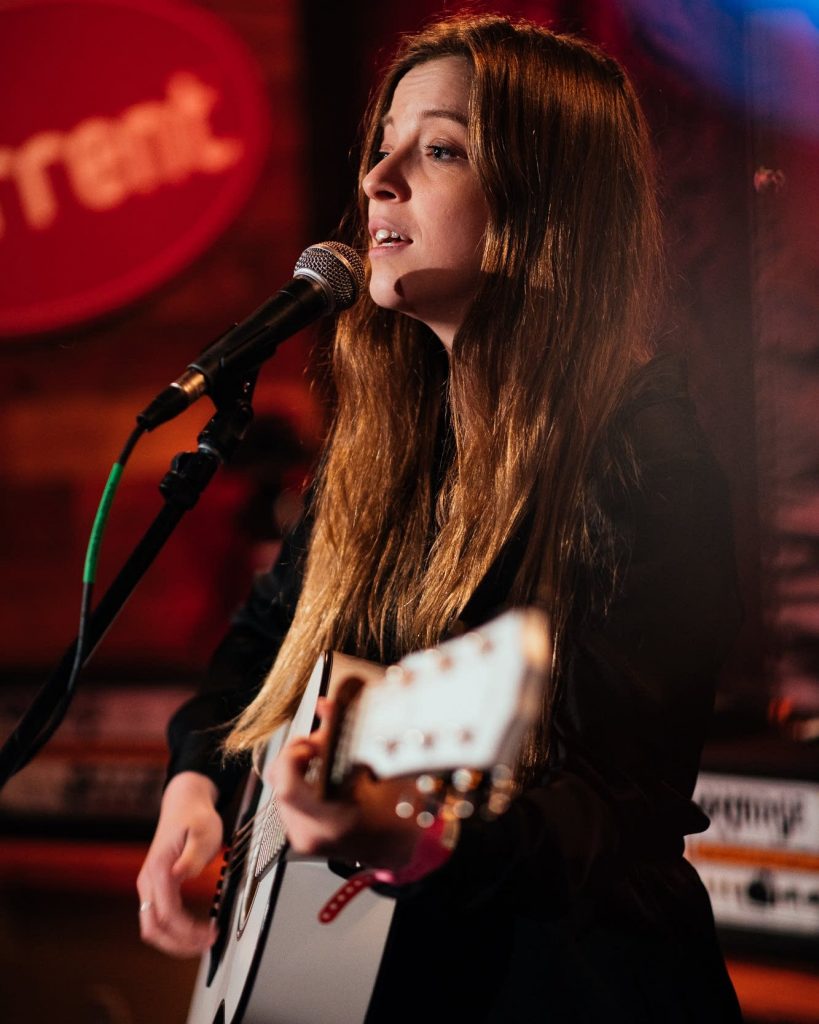 "I think this is the best stuff I've done so far," Jade's voice crackles excitedly through the phone line. She has reason to be thrilled — her recent single, "Lottery," has been making the rounds online, and she's been working with a handful of industry vets who clearly have her back.
"We had some incredible musicians," she says. "Like [drummer] Zack Alford — he was on the Fallon show with me — he played with David Bowie for 15 years."
Behind the controls in the studio was longtime producer Simone Felice, whose most recent production credits include indie favorites the Avett Brothers, Bat For Lashes, and the Lumineers.
"We've got a good family vibe now, and everything seems to be well-oiled," she adds.
The new album, which Jade says will be out sooner rather than later, follows her 2017 EP, Something American. A five-track offering, the EP offers an entry point for Bird's specific flavor of Americana-tinged alt-rock, though her music is quite accessible — its hooks do most of work for the listener. Her spirit reveals itself openly throughout the record, each song a glimpse at different sectors of her arsenal of influences.
"I really liked blues when I was younger…that's why there's a cover of [Son House's] 'Grinnin' in Your Face' on my first EP," she explains.
There's a deep appreciation of American folk on display here, including blues and country, updated with a contemporary alternative feel and Jade's already-polished songwriting. She's adopted these traditionally American forms with a seamless grace that speaks to her immersion in the work of music's greatest songwriters.
Like the work of many artists whose work resonates with their audience, there's a universality embedded in Bird's lyrical stylings, hidden in details of crumbling relationships and stories of individuals growing apart. She rejects genre labels, and instead considers herself more of a stylistic explorer, focusing her attention on the narratives that bring emotional punch to her varied musical sound.
"I've always written stories in my songs," she says. "I think that's why people are attracted to those types of music."
Bird's creative process is one of observation and extrapolation — she is an avid notekeeper, collecting snippets of thought from everywhere she goes.
"I had landed at an airport," she says, "and someone said to me, 'Ah, you brought the rain.' I put that in a song."
It's an extension of how she's translated her life experience into startlingly mature lyrical themes, something she's done since childhood.
"My parents broke up, my grandparents broke up, so I've always had a closer eye for describing a relationship breakdown," she says. "I was part of it in my younger years."
Her sensitivity permeates her songs, mixing with an exuberance that is sometimes lacking in the singer-songwriter pantheon.
As for her experience as a guitar player, her journey feels charmingly traditional.
"A family friend got me into artists like Howlin' Wolf, Neil Young, Dylan," she shares. "I picked up chords from that, started writing in my little black lyric book."
Bird draws from more contemporary players too, referencing Mazzy Star's "Into Dust" as a major inspiration: "I liked how you could just move the D chord up the neck — there's not much required to make such a beautiful tune." She claims she's not a great technical player, but the melodies in her music make such a distinction moot.
Once she got past the second-hand guitar stage, Bird says it's been all Taylor the rest of the way.
"My mom decided it was a serious hobby as opposed to an overnight thing."
She started with a used 614e guitar, and says its tone was the number one factor in her decision.
"[The Taylors] had such a warm sound, and I thought, this really suits the female vocal more than a lot of other acoustic guitar brands," she says. Her acoustic arsenal also includes a GS Mini, which she prizes for its portability and compact size.
However, her ultimate weapon is that sheer white guitar that helped her stand out on the Fallon stage. A custom-made, non-cutaway maple/spruce Grand Concert guitar (14-fret) featuring a 24-7/8-inch scale length, it's the perfect guitar to complement Bird's musical, aesthetic, and ergonomic sensibilities. She says people are quick to point out the guitar's size.
"A lot of people have told me it looks like a kid's guitar! But it works out quite well for me."
As for the white paint job, that was a deliberate choice, she says, to add a bit of eye-catching flair. The all-white look, which includes a white peghead overlay, is accented with contrasting black binding along with sparkling abalone for the rosette and top edge trim.
"I wanted it to be quite striking," she says. "The only two people I know who have had white guitars are Dolly and Elvis, and maybe Chris Isaac at one point."
She insists, though, that the attraction to Taylor has always been about tone, reiterating her affinity for how the acoustic voice complements that of women.
"It's not twangy, just more of a supportive sound," she says.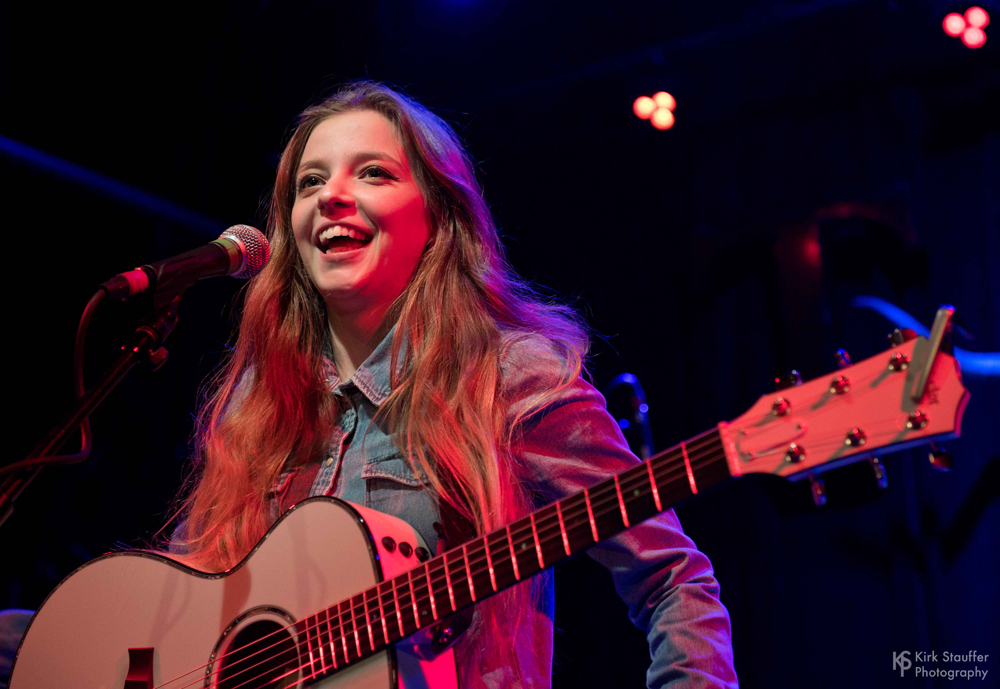 That kind of functional assertion has been core to Bird's development as an artist, specifically as a woman in a male-dominated industry. True to her confident self, Bird seems less daunted by the industry's perhaps biased expectations than emboldened by them.
"I'm a tiny human, a tiny girl, and people tend to assume I'm going to have a pretty, soft voice," elaborates. "But I've always thrived on that, because it just means I can show them that I do have a set of lungs on me."
Anyone watching her performance on The Tonight Show would have no choice but to agree — the raw energy of her voice might impress Janis Joplin. Asked what she would tell other young girls harboring dreams of musical success, she simply says, "Keep persevering." She describes facing stereotypes in her days playing pubs in London, where she performed alongside veteran blues players every weekend.
"Eventually I became an artist that people actually came in to see there," she says.
Bird is also an avid fan of female contemporaries, naming artists like the indie trio HAIM as examples of women whose musicianship and songwriting talents have put them in control of their musical career. With her own career on an upward arc, she aims to maintain artistic control of her music.
"I know I'm always going to write my albums 100 percent by myself," she says. "I'm proud of that, and I can't wait to release new music."
Based on her recent emergence, it's hard to imagine anything else. With extensive tours on the horizon and the release of her new album approaching fast, Bird seems to relish that spirit of self-reliance.
"When you're in the studio, you're all on an equal level," she says. "I know what I want, and I speak it often."
Whatever she's preparing to say, the world is ready to listen.