The Best Acoustic Guitars for Travel
Music is meant to be shared. There's a reason we show our favorite songs to our friends and post about new artist discoveries on social media. So what better way to share your music than by bringing an acoustic guitar with you everywhere you go?
There are so many guitars that differ, whether it's by guitar wood types (mahogany body, rosewood fretboard, solid spruce, mahogany neck, etc.) or sizes and shapes (mini acoustic guitar, full-size guitar, parlor guitar, etc.). The only question is: which guitar do you choose for your travels?
To help you focus on trip planning, we've put together a list of the best travel acoustic guitar choices out there.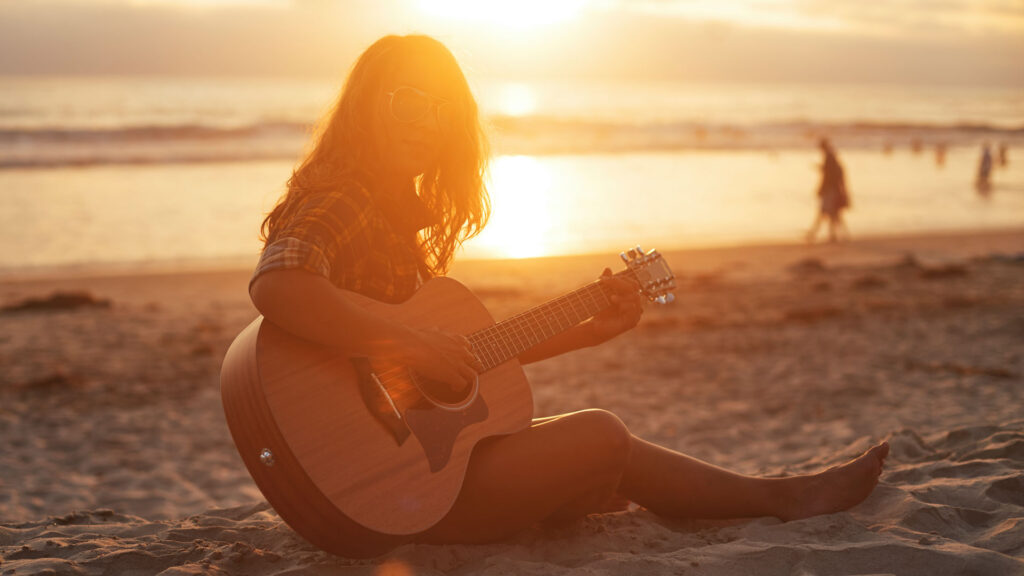 Why Buy a Travel Guitar?
You may be thinking, "I already have an acoustic guitar. Why do I need an acoustic travel guitar?" While they may not be for everyone, there are many scenarios where buying a dedicated traveling guitar makes sense. For example:
You don't want to add extra wear and tear to your favorite home or studio guitar
You want to keep practicing on vacation but don't have enough space to pack a full-sized regular guitar
You often fly or drive long distances to gigs
You're a digital nomad who doesn't want to give up playing guitar
You prefer a smaller-scale guitar as opposed to a larger regular guitar
Theoretically, any guitar can be a "travel guitar"—big or small. But in most cases, traveling with a scaled-down guitar is more convenient.
When shopping for a travel size acoustic guitar, look for something compact, lightweight, and easy to play. The best travel guitar fulfills all of these conditions without compromising on sound.
The Best Acoustic Guitars for Travel
For too long, traveling guitarists have had to settle for thin-sounding guitars. Every musician on the go deserves a travel guitar that's portable, durable, and sonically impressive. Our top guitars for travel deliver all that in spades.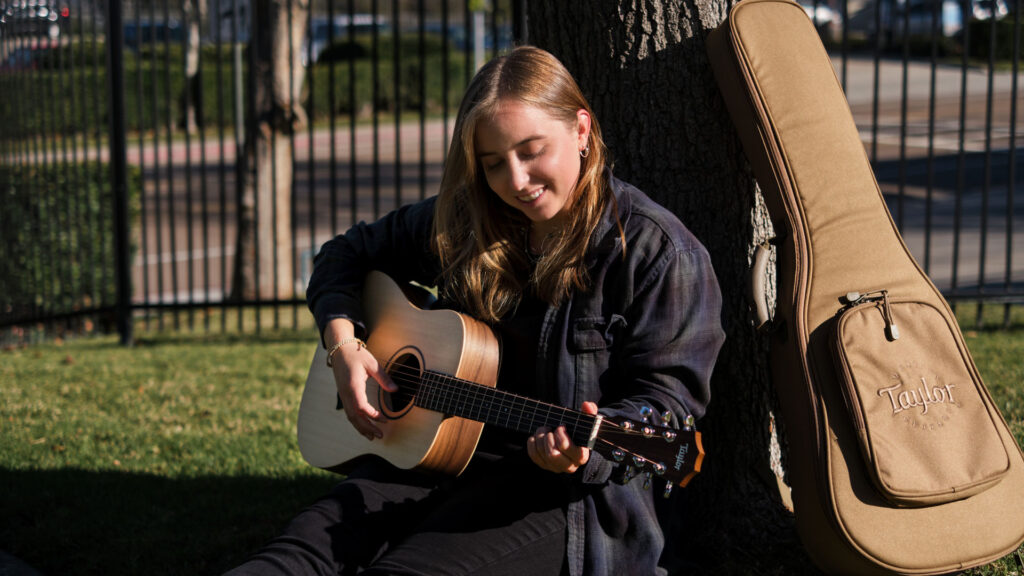 Baby Taylor
When you think of rich tone and volume, you probably don't picture a 3/4-size acoustic guitar. But the Baby Taylor Series packs a dynamic punch well above its weight class.
Its classic dreadnought shape will be familiar to many, but the footprint is reduced to three-quarters of a standard guitar. At just 12-1/2" wide and 3-3/8" deep, the Baby Taylor fits snugly in your car or on the overhead rack of a train.
The reduced scale length (22-3/4") translates to lower string tension and easier fretboard navigation. The result is a more comfortable guitar experience—you can strum beside the campfire all night long.
For an affordable, no-nonsense workhorse, try the Baby Taylor in Sitka spruce (BT1) or mahogany (BT2). If you intend to perform live while traveling, the BT1e, BT2e, and BTe-Koa come equipped with an ES-B pickup/preamp combo and onboard tuner.
Big Baby Taylor
As the name suggests, the Big Baby Taylor (BBT) is larger than the Baby Taylor but not as big as a full-size dreadnought guitar. It's all the full-bodied sound in a slightly smaller package.
Compare the body of the Big Baby Taylor to that of a standard dreadnought. The BBT is 15 1/10" wide and 4" deep; a full-size Taylor dreadnought measures 16" wide and 4 5/8" deep. The change in size may seem minor, but it can be the difference between fitting your guitar in the tour bus and leaving it behind.
The 25-1/2" scale length, however, is the same as the full-size, helping you feel right at home—even when on the road.
Choose between the purely acoustic BBT and the ES-B pickup-adorned BBTe. Both models feature a Sitka spruce soundboard and a layered walnut body.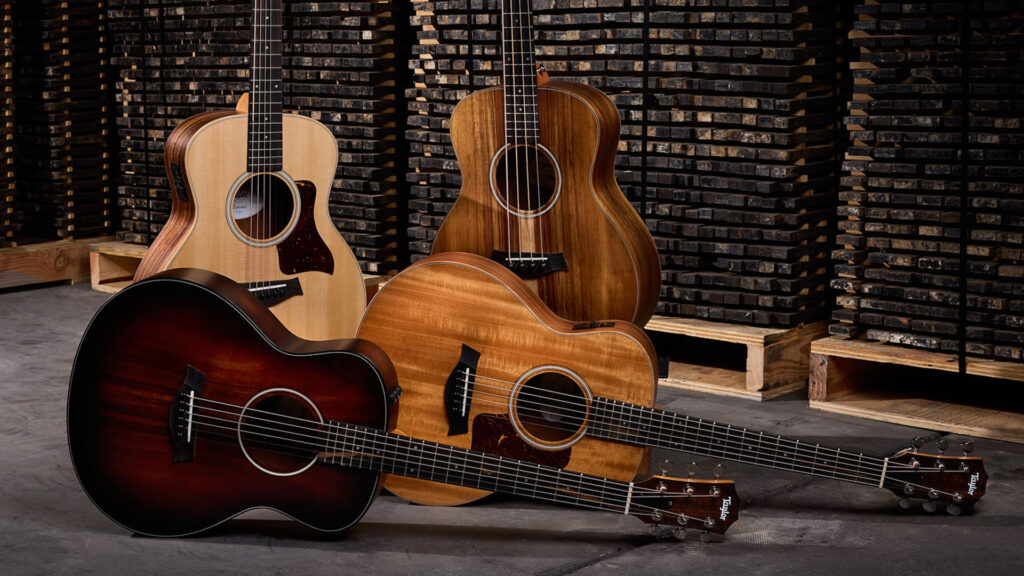 GS Mini
The renowned GS Mini Series takes the Grand Symphony body shape and shrinks it down to a more portable size. The GS Mini has long been a favorite of mobile musicians thanks to its refusal to compromise. It may be small, but it's mighty.
With a body width of 14-3/8" and a depth of 4 7/16", the GS Mini is built for tight spaces. Add in a super playable short-scale neck (23-1/2"), and it's no wonder professional musicians and casual travelers alike reach for this guitar. For a beginner guitar player, you can use the dot inlays as position markers for training purposes.
Options include the GS Mini Rosewood and GS Mini Mahogany, both of which are also available with built-in ES-B pickups. Players looking for a more articulate sound can try the GS Mini-e Koa Plus, complete with upgraded ES2 pickup.
And now, traveling bass guitar players can join in on the fun. The GS Mini basses resonate with a deep, baritone voice, further amplified by an ES-B pickup. The 23-1/2″ neck is especially noticeable—at around 10 inches shorter than a standard bass neck, playing is exceptionally comfortable. For a classic look, there's the GS Mini-e Maple Bass. If you want to really stand out, go for the GS Mini-e Koa Bass.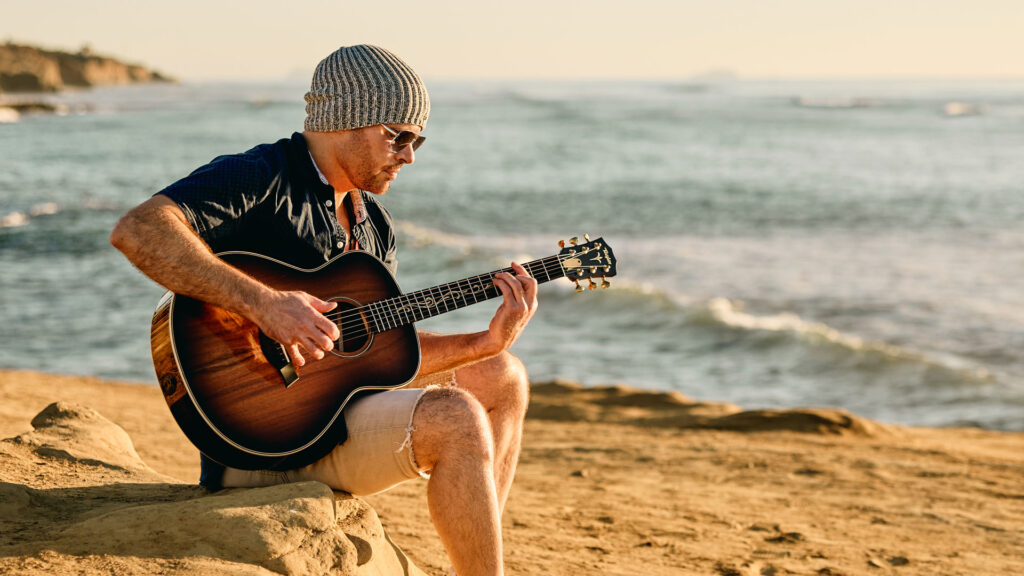 Taylor GT
The Taylor GT is a revolution in compact guitars. It takes the look and sound of our largest body style (the Grand Orchestra) and makes it travel-sized.
The GT body measures 15" across and 4-1/4" deep—that's smaller than a standard dreadnought. Smaller-bodied acoustic guitars don't normally sound so full. But thanks to our new C-Class voicing architecture, the lower frequencies come through without muddying the sound. The 24-1/8" scale neck is slightly longer than a GS Mini's, but it still delivers on slinky hand-feel due to lighter string tension.
The GTe Urban Ash, with its ES2 pickup for on-the-go gigging, is an ideal travel companion. For those who love to travel in style, there's the all-koa GT K21e.
Must-Have Travel Accessories
Once you have your travel guitar in hand, it's tempting to book a next-day flight. But before you go, make sure you have these essential guitar accessories.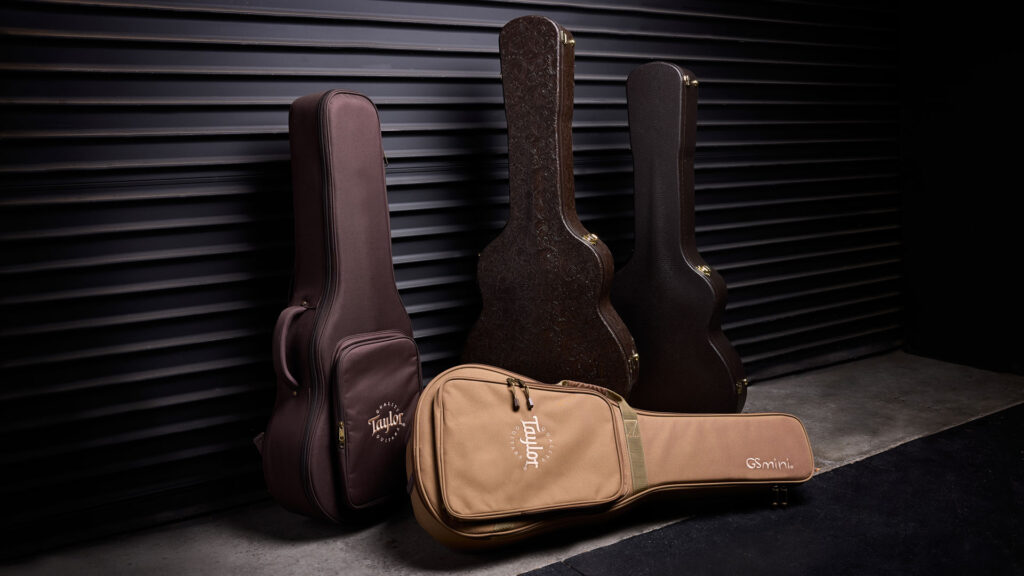 A Guitar Case
Just like you wouldn't drive without your seatbelt, you won't want to travel with your guitar unprotected. A guitar case keeps your instrument safe from dust, sunlight, moisture, and impacts. It also provides a place to store all your other accessories and can often be locked to prevent theft.
All Taylor guitars come with a case, though many of the guitars listed above include a padded soft case. For longer trips and plane travel, we recommend a hardshell case or a Taylor AeroCase, which is included with certain models.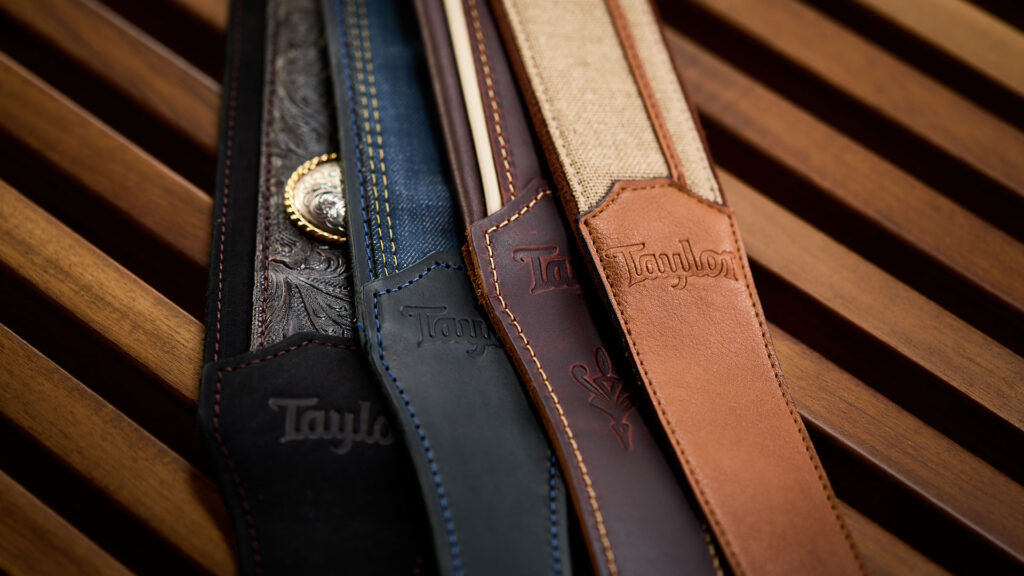 A Guitar Strap
Spontaneity is one of the best parts of travel. With a guitar strap, you're prepared to play anywhere—from a campfire jam in Montana to an open mic night in Rome.
While padded straps are more comfortable, they're also heavier and bulkier. A lightweight GS Mini Guitar Strap will fit perfectly in any case—without taking up valuable space.
Don't forget the strap locks, either. Strap locks provide an added layer of security, so you won't have to worry about dropping your guitar on a trip.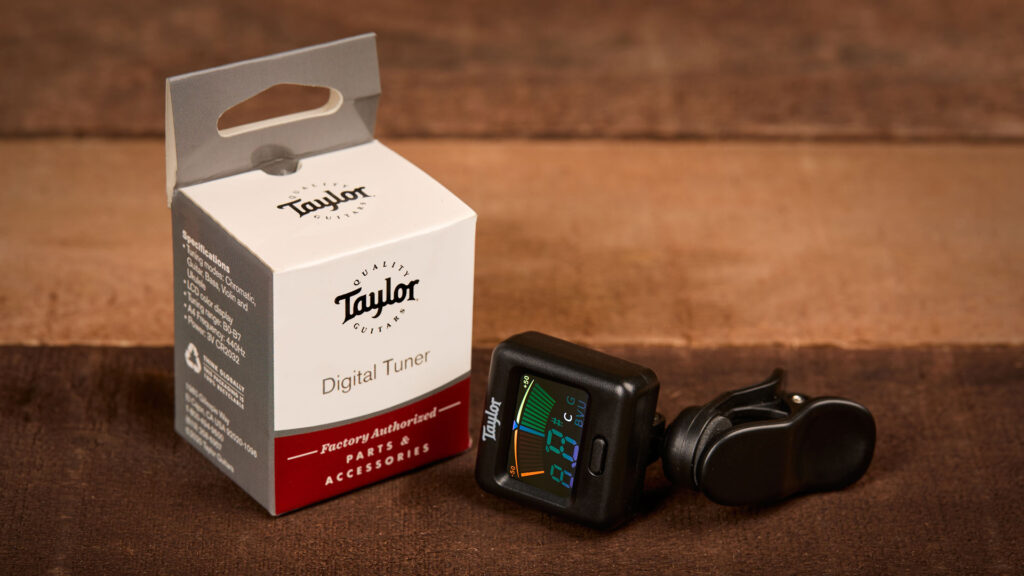 A Clip-On Tuner
You never know when you might run into other musicians on the road. Without a tuner, though, you might not be able to jam with them.
Many of the guitars listed here come with an onboard ES-B pickup, which includes a tuner. But if your travel guitar doesn't have a built-in tuner, a clip-on tuner is small, inexpensive, and will keep you in tune. The batteries last for years, and a bright LED screen lets you tune anywhere—even in the moonlit wilderness.
Extra Strings
Sometimes, bad luck strikes; even a brand new string can snap on the second day of your trip. If you break a guitar string while you're away, you might not have access to a music store, so be sure to bring extras.
For longer holidays (especially when camping or road-tripping), you may want to restring your guitar sooner than you usually do. Dirt and grime can build up quickly when you play outdoors.
A Hygro-Thermometer
A digital hygro-thermometer works by measuring the temperature and humidity of your environment. Because guitars perform optimally in 45-55% relative humidity, it's crucial to monitor moisture levels.
Digital hygro-thermometers are handy on any trip, though they're especially important if you're traveling somewhere with a vastly different climate. Keep in mind that a hygrometer only measures humidity; to maintain humidity levels, you may need to pack a guitar humidifier. We suggest the D'Addario Two-Way Humidification System.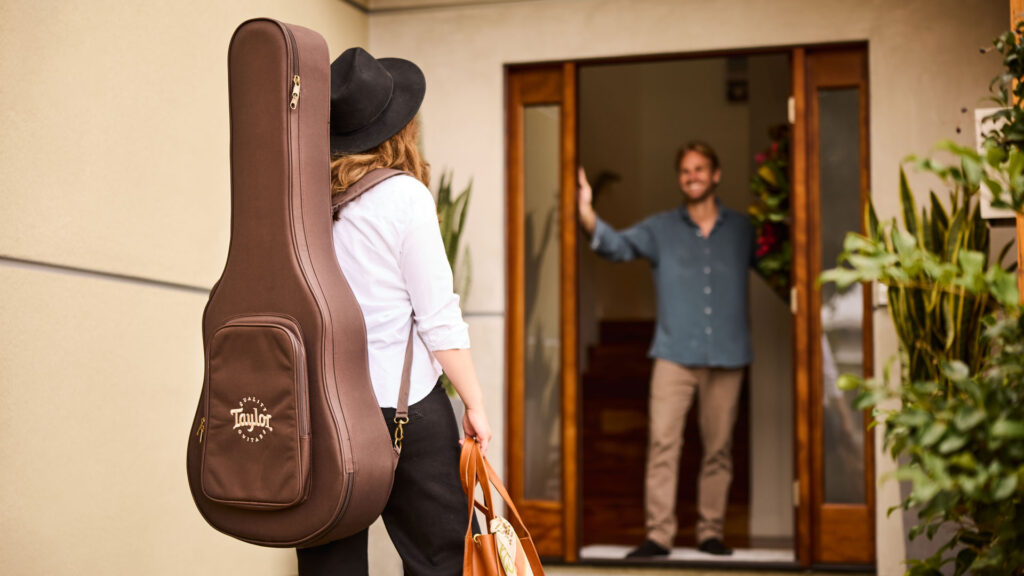 Take Your Music with You
With a travel guitar, your artistic expression becomes infinitely portable. You can jam with friends around the bonfire, play a set at a roadside cafe, or write songs as you drive cross-country. Even beginners can benefit from a travel guitar—your practice schedule doesn't have to wait just because you're on an adventure.
The mistake that many players make is thinking a travel guitar is a luxury. Don't think of it as buying a guitar only for traveling; think of it as another guitar to add to your arsenal that you can also travel with. Scaled-down acoustic guitars are affordable, and they make equally great companions in the studio and at home just like a full size guitar.
No matter where your journey takes you, travel in style with Taylor Guitars.
For more tips on how to travel with a guitar, as well as advice on guitar maintenance and technique, like how to fix fret buzz, visit the Taylor blog.