In 1965 my father-in-law, Ikey Bayless (deceased), gave me a 1953 Martin D-18. He taught me a few "cowboy" chords — but working and raising a family got in the way. Played occasionally, the D-18 stayed in the case for years at a time.
Fast forward to 1990. I was living in Evans, Georgia, and got into the construction business with a friend, Larry Dye. We built houses next door to each other, and on several occasions around the BBQ grill etc. we'd pull out our guitars, play and sing a little. Larry had a Taylor, and I had my Martin.
Forward to 2007. I was getting close to retirement, so I had more time on my hands. I started playing rhythm guitar in the church orchestra and praise band. Needing an acoustic-electric, I bought my first Taylor, a 710e, then a GS8e, next a 414ce-LTD (2005), another 414ce LTD (2009), a 514ce, and finally, an 810, selling or trading most times. I finally settled on the 2009 414ce Fall LTD and made a few upgrades. I changed the tuners and strap button to Taylor Gold hardware and installed bone bridge pins with inlays to match the pickguard. Mixed among the Taylors were a Martin D-35, a Larrivee D-09, and a Gibson J-45.
Now it was January 2013. Larry called and asked if I would look at his guitar and see what it might be w rth, thinking he wants to sell it. He brought it over, and my jaw almost hit the floor when I looked at the label. I have read Bob [Taylor]'s book and realized this is something special. It was a Lemon Grove 710, serial number 457, vintage 1978, number 346 off the assembly line. I did some research, made a determination of the market value, all the while playing it and falling in love. I made Larry an offer; he accepted. He was happy, I was happy, everybody was happy, happy, happy.
This was the very first Taylor I had ever seen or played. Larry is not sure of the date he bought it, but he bought the guitar (new) at Schneider's Music Center in Augusta, Georgia. I intend to pass it on to my grandchildren. My oldest grandson, Austin, is playing and doing great. My youngest, Levi, wants to learn, and I'm hoping his sister, Madelyn, will want to play. Yes, I still have the D-18.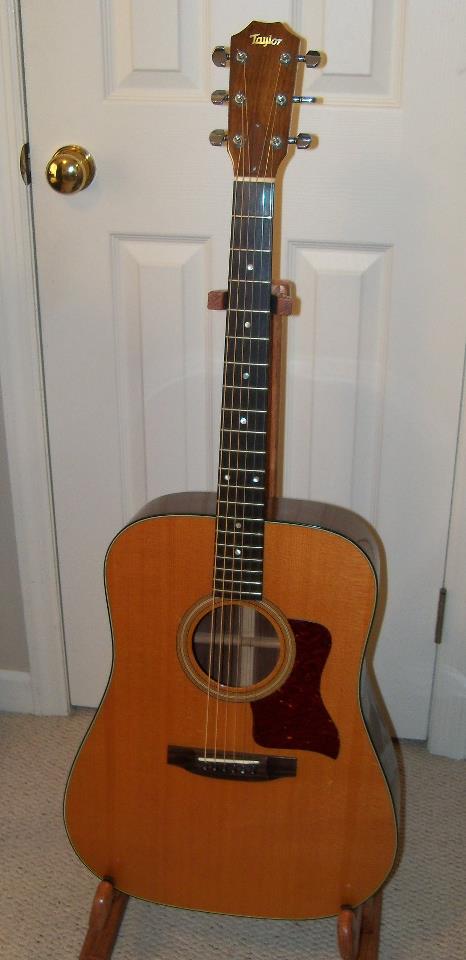 Submitted by: Max Field