New Taylor Guitars for 2020
We're excited to announce a range of new acoustic guitars this year, including a bevy of Builder's Edition models, fresh tonewood and aesthetic options in our layered-wood collection, and the triumphant return of the Grand Symphony body shape. Here's a rundown of the new guitars you can expect to find at your local authorized Taylor dealer in the coming months.

Builder's Edition
Following the game-changing release of our first Builder's Edition guitars, which included a K14ce with a torrefied spruce top, V-Class bracing, and a host of other player-centric design enhancements, we've expanded the Builder's Edition collection with four exciting new models.
It starts with the intriguing Builder's Edition 816ce, which also serves as a launchpad for the redesigned Grand Symphony body shape. Built with back and sides of solid Indian rosewood with a Lutz spruce top, this 816ce also features an innovative new soundport cutaway that introduces a second soundhole to the guitar, creating a more high-fidelity, immersive musical experience.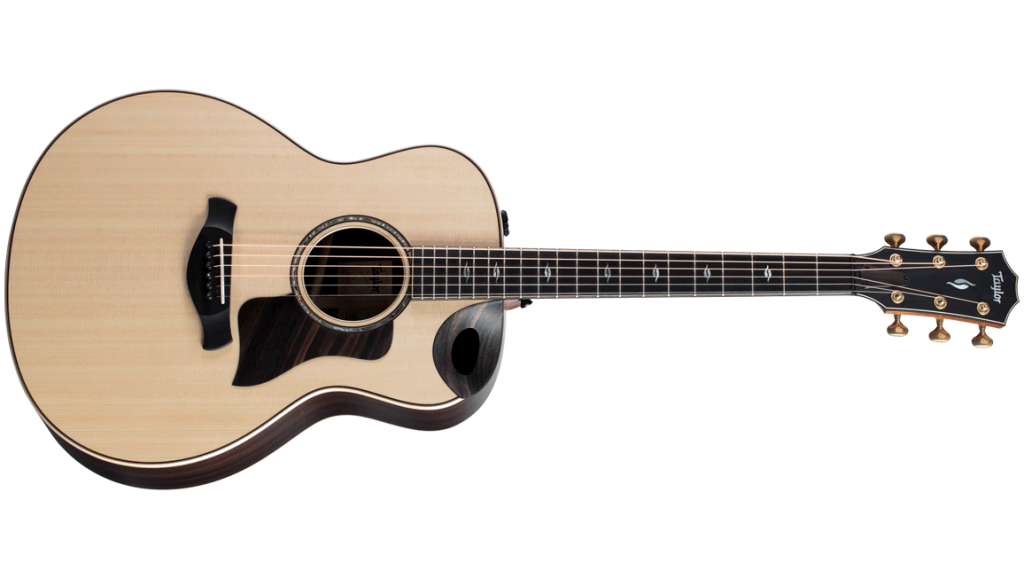 For electric players looking to make the switch to a premium acoustic, there may be no better option than this year's new Builder's Edition 912ce, a Grand Concert guitar outfitted with a range of comfort-focused features. With a compact frame, a slender, comfortable neck, and the springy, robust response of Lutz spruce and Indian rosewood, it's an exciting new entry in the Builder's Edition lineup. Also available in a Wild Honey Burst top finish.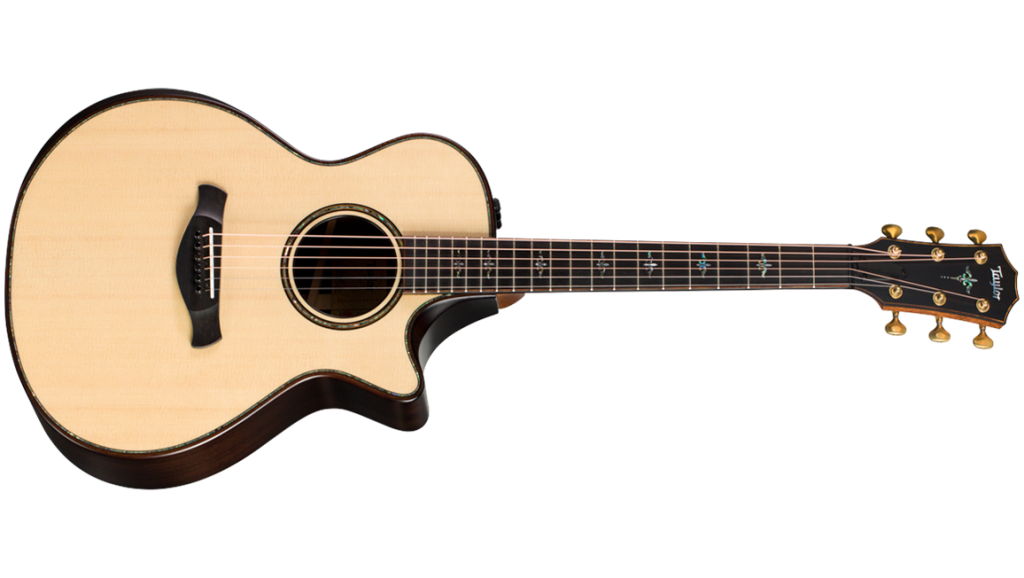 Next up is our first 12-string in the collection, the Builder's Edition 652ce, featuring solid figured maple back and sides, a torrefied spruce top, and V-Class bracing under the hood. A beveled armrest and cutaway dial up the playing comfort on the compact Grand Concert body, while a reverse-strung setup emphasizes the fundamental note to produce a fuller, meatier 12-string sound that plays well with others, especially in stage settings.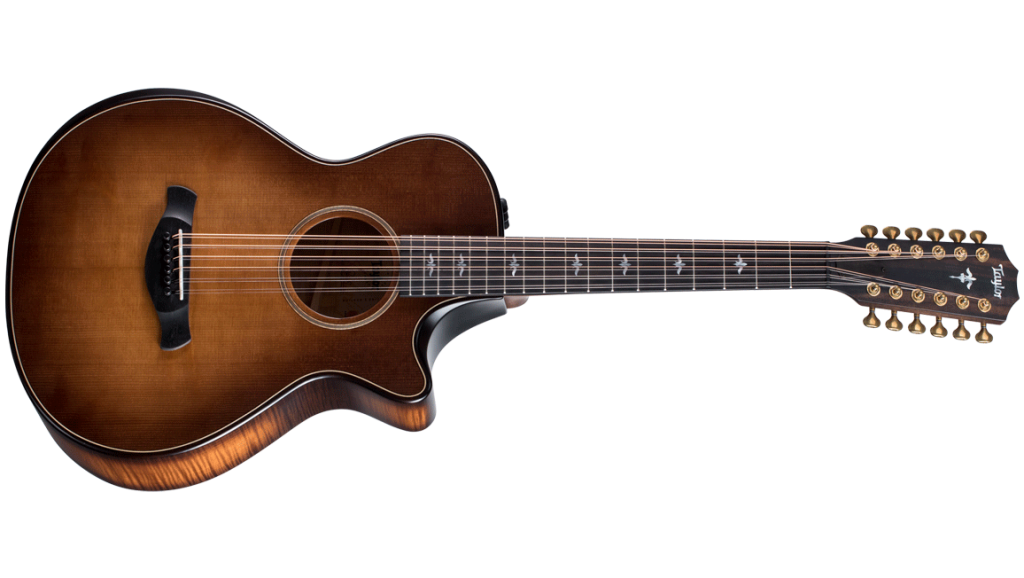 This year's final addition to the Builder's Edition family takes Taylor's commitment to environmental responsibility to a new level. The Builder's Edition 324ce is a Grand Auditorium guitar featuring a solid mahogany top with back and sides of Urban Ash™, a new tonewood sourced from trees that have been removed from urban settings due to property concerns, age and other factors. Building guitars from this exciting new material adds a new tonal flavor to the Taylor line while removing perfectly good wood from what has long been considered waste stream, keeping trees from ending up in landfills. Learn more about Urban Ash and our growing involvement in sustainability initiatives here.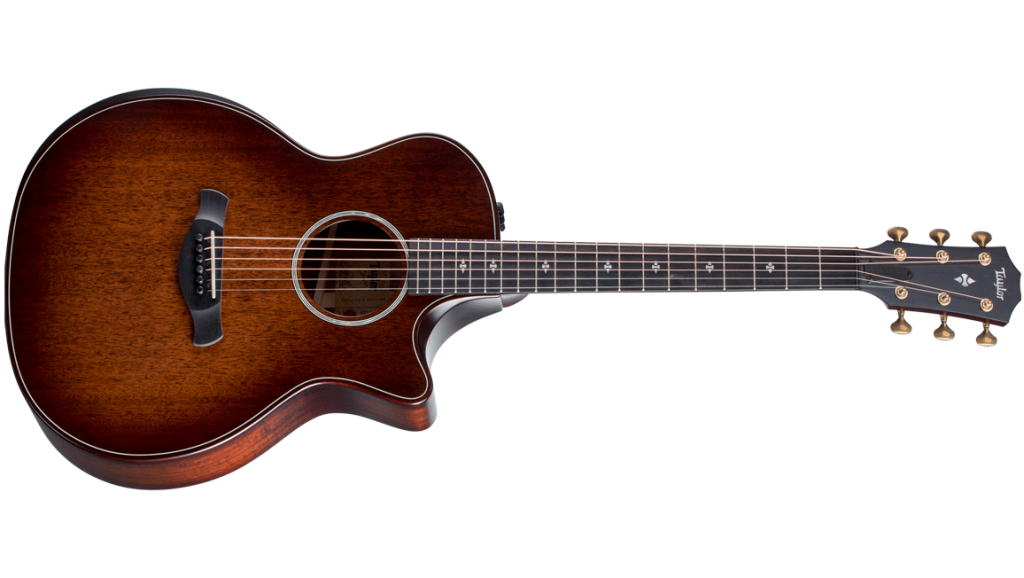 Grand Symphony K26ce
Alongside the Builder's Edition 816ce, the brand-new K26ce establishes a compelling new tone profile within the Taylor family, a broad, powerful acoustic voice boosted by V-Class bracing. This model features back, sides, and top of solid Hawaiian koa, finished in a dark edgeburst that highlights that wood's naturally stunning visual character. All new Grand Symphony models will also include the soundport cutaway, which leverages the body's large lung capacity to create rich, surround-sound response with notes that sound like they're changing color as they sustain out. You'll find the new K26ce at Taylor dealers during the first few months of 2020.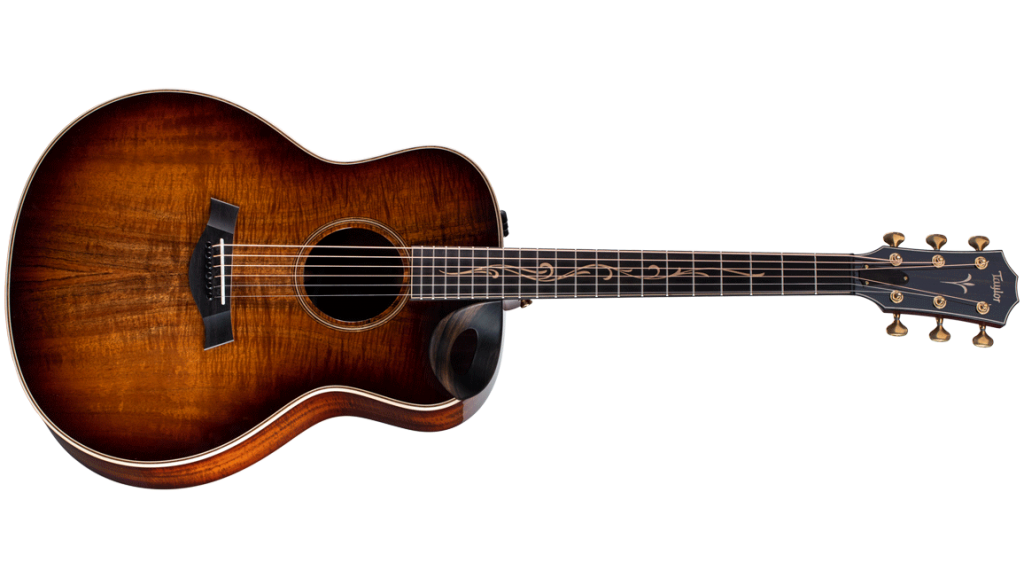 Return of the Grand Orchestra
Fans of big-bodied guitars will rejoice at the reintroduction of the Grand Orchestra, our largest body shape and a true beast of the acoustic world. Fashioned after the traditional jumbo shape but enhanced with unmistakable Andy Powers flair, these new guitars feature V-Class bracing for an even more dynamic response that maintains the power and volume of the large body while also lending these guitars incredible soft-touch responsiveness. Model choices include the rosewood/spruce 818e and the maple/spruce 618e. Both options feature a new Mission fretboard inlay pattern in mother-of-pearl and ivoroid, and both are subtly adorned with a new color treatment we're calling Antique Blonde (top only for the 818e). All Grand Orchestra guitars are built without a cutaway for a more traditional look and feel.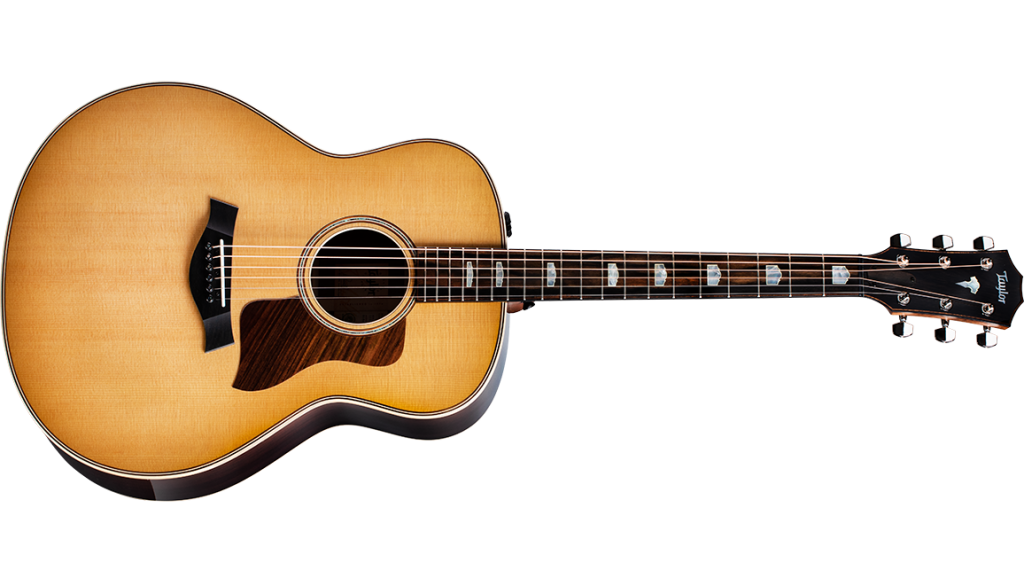 200 Plus Series Guitars
We're also excited to roll out a handful of new models within our layered-wood lineup, starting with the 200 Plus Series. These models, which include a Dreadnought 210ce Plus and a Grand Auditorium 214ce Plus, include many of the features you'd expect from a 200 Series guitar, such as layered Indian rosewood back and sides and solid Sitka spruce tops. For these Plus models, we've added subtle black body binding, a gloss finish, and nickel tuners. Also new this year is the AeroCase™, which combines the light weight and portability of a soft case with the durability and protection of a hardshell case.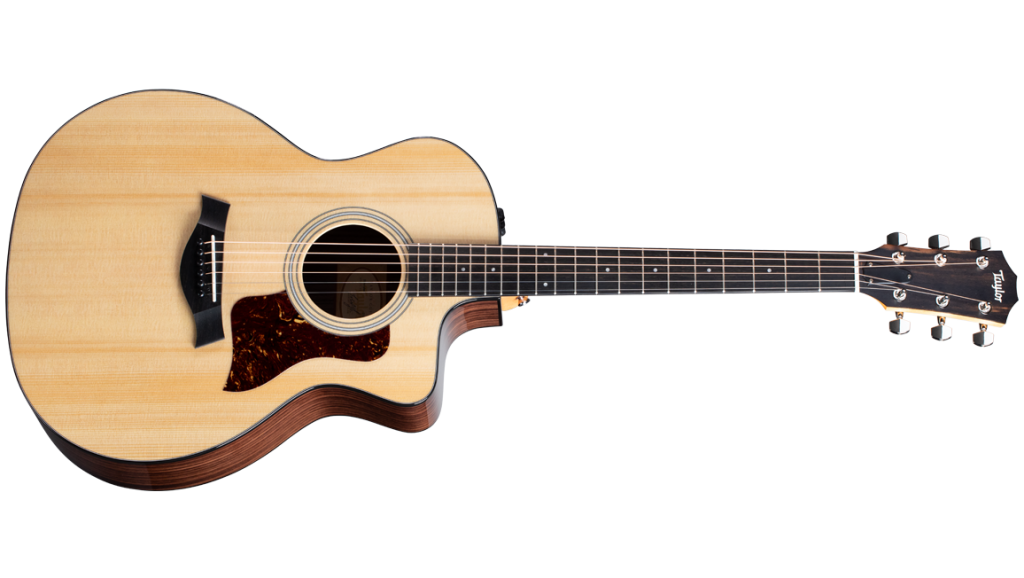 200 Series Guitars
We've also continued to tweak our ever-popular 200 Series to help players find inspiration at the right price. This year's offerings include several new guitars, including several standard models featuring back and sides of layered Indian rosewood with a solid Sitka spruce top, crisp white binding, a matte finish, and a sturdy Taylor gig bag. For fans of Hawaiian koa, the 214ce-K offers that tonewood's striking visual profile along with bell-like treble tones and a warm low end.
210ce
214ce
214ce-N
254ce
214ce-K
GS Mini
Players of all styles and skill levels continue to love the GS Mini, our short-scale guitar with a big, bold acoustic tone. This year, we're adding new tonewoods and visual touches to the mix, starting with a GS Mini Rosewood, available both with and without built-in electronics and a structured gig bag. The GS Mini-e Koa Plus makes its debut this year as well, built with layered Hawaiian koa back and sides with a solid koa top for a sweet, lyrical sound with a beautiful visual style. This model ships in an AeroCase designed for optimum protection and portability and features a shaded edgeburst, ES2 electronics, and nickel tuners.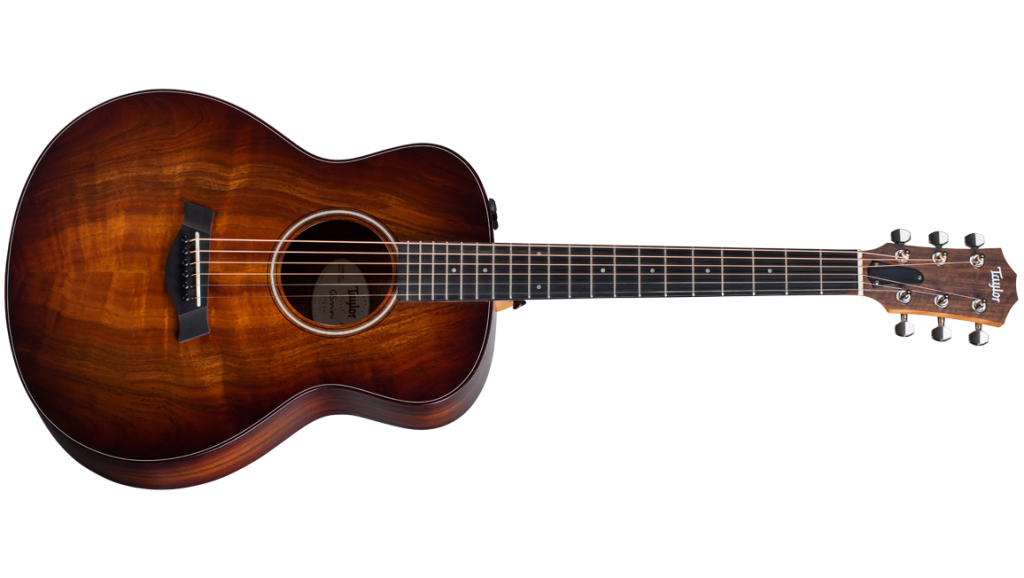 Finally, we've added a new option in the acoustic bass world: a GS Mini-e Koa Bass made with back and sides of layered koa matched with a solid koa top. Players looking to expand their musical arsenal will love its easy-playing feel and punchy bass tones, and its small size makes it a great option for practice and jam sessions.
---
Changes to Existing Models in 2020 from Taylor Guitars
200 Deluxe Series
Along with our brand-new guitars, we've also updated some features within the 200 Series. For starters, you'll find the 214ce DLX in several striking color options, including red, black and sunburst finishes. Further updates include Taylor satin black tuners for the 214ce-BLK DLX and its 12-string Dreadnought counterpart, the 250ce-BLK DLX. Three other Grand Auditorium models—the 214ce DLX, 214ce-SB DLX, and 214ce-RED DLX—have been updated with polished bronze tuners, with koa options like the 214ce-K DLX and 224ce-K DLX receiving the same update later this year.
Baby Series
Players of all ages continue to love the Baby Taylor. This year, we're updating the three-quarter-size BT1 and BT1e (featuring built-in electronics) with layered walnut back and sides and maple necks. The BT2 and BT2e will retain their layered sapele backs and sides and mahogany necks.